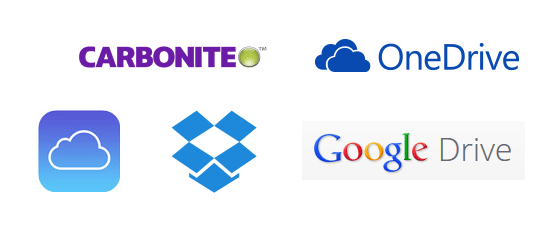 Backing up your computer, mobile phone or tablet PC onto another drive at home is a quick and easy way to try and prevent data loss in the event that the device has a failure. The big problem with this is a catastrophic failure such as a home burning down will not prevent the loss of that data. This is where remote storage comes in handy for ensuring that vital data is not lost from just such an event. In the past, many companies did this by using tape backups that were generated at their servers and then shipped off site for storage. Thankfully networking and storage has improved that we can now do these tasks over the Internet in what is frequently called cloud storage.
Each of the major companies has developed a cloud storage service that can be activated and used with their devices. While those services may have been developed with a specific product in mind, they have expanded out to more devices in response to the third party solutions that are available and can be used across multiple platforms. So let's take a look at what it means to use a cloud storage service and some of the options available.
Limitations of Cloud Storage
I've already talked about how the storing of the files at another site can be a huge benefit in the event of a catastrophe that would destroy all local data within and stored externally to a computer or device. This makes the cloud storage very attractive as an extra layer of security for your files. There are several major drawbacks to this method of data backup storage though.
The biggest issue that plagues cloud storage is speed. Local storage backups are quick because the data can be written to backup drives extremely fast. Even when it is done over a wireless home network, it is much faster than cloud storage. This all has to do with the bandwidth that users have. Even 802.11b wireless networks run at 11Mbps which is faster than your average broadband speed. A typical cable internet access has upload speeds of just 4Mbps. A single gigabyte of data uploaded over that 4Mbps link would take roughly half an hour! Image trying to backup a 500GB hard drive.
Next there is the space restrictions. The average laptop computer today comes with a 500GB hard drive. Backing this up to an external hard drive is simple by just purchasing an external drive. With cloud storage, the providers generally have space limits. You may get anywhere from 2 to 15GB of storage free but that doesn't store much data. My digital photographs alone take up over 32GB of data which is more than any of these free offerings. Of course they offer higher capacities but they all come with a monthly fee which brings up the next issue.
Backing up a computer system to a cloud system is more expensive than doing it locally. Obviously the companies providing the cloud storage have to make some money in order to provide the services so it isn't surprising that they charge fees. The thing is that local backups are much less expensive. A two terabyte external USB hard drive can cost just over $100. That same amount of storage in the cloud can cost roughly the same amount per month.
Because of all these limitations, it is important to take a close look at what you want to get out of cloud storage services. Do you want a complete backup? Just your important files? Will you be using it to move files between devices? Let's look at some of the services now to get an idea of what is offered and how they may be best fit your cloud storage needs.
DropBox

is probably the most well known and established of the cloud storage services available on the market. It originally was developed for Windows and Mac computers but also has clients for most mobile devices as well. The big benefit to this service was really easy sharing and access of files between devices. Need to keep a file available so that you can access it via your PC, mobile phone or tablet? Just drag and drop that file to your DropBox storage to put it on the cloud. Then when you need to access that file, you just open your DropBox on whatever device and browse for the file just like you normally would.
The DropBox service is free for individuals with a capacity limit of 2GB which is very small these days but if you are just sharing a file between devices on a temporary basis rather than backup, it works just fine. They use to offer various tiers for those that needed additional space but now they have changed to a single DropBox Pro plan that comes with 1TB of space for $9.99/month. There is also a business plan that offers unlimited storage for $15/month per user.
Carbonite
is different from the other cloud services. Its system is specifically developed for being a backup service. This means that it is setup for a specific computer and then used for automatic backups of that computer into their cloud storage. This includes unlimited storage on their system to backup that computer so instead they offer tiers of service that determine what will be backed up and how.
For instance, the Personal Basic service which is available for Mac or Windows PCs will back up items like photos, email, documents, music and settings for just $59.99 for one year. If you have videos or files larger than 4GB, they can be backed up but must be done manually. This is due to the larger sizes which means they can take a long time to backup. The next tier of Personal Plus ($99.99/year) is for Windows only and adds to the service support for external hard drive backups and a mirror image of the system so that the entire OS and programs can be recovered in the event of a drive failure. The final Prime ($149.99/year) tier adds automatic video backups instead of manual and the courier service such that you can request a physical copy of the backup image files be sent to you for faster restoring.
This solution is best used for those people that specifically want to backup a single computer. It gets less useful if you happen to have multiple computer that you need to backup. In addition to the personal plans, they also offer Server plans that are designed for businesses and sensitive data such as financial and health information but they are very expensive at $799.99 to $1299.99 a year.
iCloud

Apple's storage service was specifically developed for their iOS devices and computers running Mac OS X 10.7 and later. There is a client for Windows systems as well but it is mostly for managing the data backups of your iTunes and iOS device data stored on your PC. In fact, it really is designed to backup your music, movies, books from your iTunes library in addition to a few items such as photos, mail, contacts, calendars and tasks with specific programs. This makes it less useful for backing up things such as word processing documents. In addition to the storage services, it can also be used to help locate misplaced iOS devices.
Apple's iCloud service provides 5GB of storage space for backing up the aforementioned items at no cost. Additional storage can be purchased with a yearly fee. The tiers include 50GB at $.99/month, 200GB for $2.99/month and the largest of 1TB for $9.99/month. Note that these are for US prices so if you are in a different region, check their for your region.
There are two ways that I recommend that iCloud be used. First, use the free service if you have an iOS device for the location services. This can be extremely helpful for lost or stolen phones. Second, if you don't have a PC at all and rely solely on an iPhone or iPad, the extra storage space can be critical for saving your data from a device failure or complete loss. Outside of this, most of the other services are just more affordable and just as easy to use.
Microsoft OneDrive

(formerly SkyDrive) is probably easiest to compare to DropBox. It is similar to that service in that you can simply open it up in your file browser and then select what files you want to have sync'd up. The difference here is that this repository can then be used to sync the files automatically between multiple Windows PCs. In addition, if you happen to store Microsoft Office documents in it and subscribe to Microsoft's Office 365 services, you also have the ability to use the Microsoft Office web tools to modify and edit the files in the OneDrive storage. While there may not be a client specific for some platforms, there are for syncing some or editing files.
Like Apple's iCloud, Microsoft offers a tiered approach to the storage capacities for the OneDrive service. The free system provides just 15GB of storage but there are cases where buying select Microsoft products will provide larger capacities for periods up to one year. Additional storage can be purchased at 100GB for $1.99/month, 200GB for $3.99/month and 1TB for $6.99/month. The 1TB version also includes a single person subscription to Office 365.
Google Drive

Happen to have a Google account for gmail, YouTube, Play, Google+, etc? If so, you automatically have access to with up to 15GB of storage for free. The service can be used to storage just about anything on it when using a compatible client for the PC or through one of the aforementioned Google services. In addition, the Drive service is also tied to Android OS devices that have been linked to a Google account. Similar to Microsoft's Office services, use of Google Docs web services can modify your compatible documents that are stored in the Google Drive.
Just as with the other services, Google offers different tiered pricing plans for additional capacity but they offer much higher ranges than the others if you are willing to pay the prices. The first fee tiers are extremely affordable at $1.99/month for 100GB, $9.99/month for 1TB. If you need higher than that, there is a 10TB plan at $99.99/month, 20TB at $199.99/month and 30TB for $299.99/month but these are geared more towards companies than they are to individuals as the cost jump is significant.
While Google Drive can be used by a wide range of computers and devices, I mainly recommend the service for those that either use the Google online services frequently or use an Android or ChromeOS device exclusively instead of a Windows or Mac computer system. Of course, if you need a lot of space, there prices are hard to match.