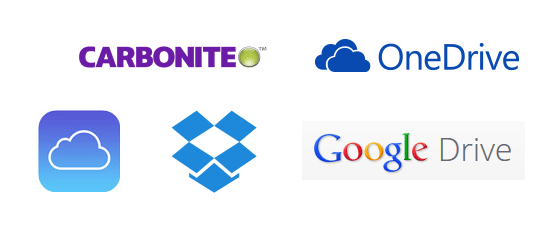 Backing up your computer, mobile phone or tablet PC onto another drive at home is a quick and easy way to try and prevent data loss in the event that the device has a failure. The big problem with this is a catastrophic failure such as a home burning down will not prevent the loss of that data. This is where remote storage comes in handy for ensuring that vital data is not lost from just such an event. In the past, many companies did this by using tape backups that were generated at their servers and then shipped off site for storage. Thankfully networking and storage has improved that we can now do these tasks over the Internet in what is frequently called cloud storage.
Each of the major companies has developed a cloud storage service that can be activated and used with their devices. While those services may have been developed with a specific product in mind, they have expanded out to more devices in response to the third party solutions that are available and can be used across multiple platforms. So let's take a look at what it means to use a cloud storage service and some of the options available. Continue reading →

Great news this week for anyone that happens to be a subscriber to the Office 365 platform by Microsoft. Beginning on Monday October 27th 2014, users of the Home, Personal and University editions of Office 365 will be able to get included with their subscription. This is a major enhancement to Microsoft's office suite software package. Previously, the Office 365 Home program only included up to 1 terabyte of storage for each of the five possible users in the account system for a $9.99/month fee. Personal plans for single users are also more appealing as they also can get the unlimited storage at a price of just $6.99/month. Business users do not have access to this plan just quite yet. They too will be offered unlimited OneDrive storage sometime in 2015. Current Home, Personal and University subscribers that want to get into the unlimited OneDrive will need to to be included as it rolls out.
If you aren't an Office 365 subscriber currently, you can check out my The Good and Bad of Subscription Software to get an idea of the cost analysis of subscribing versus buying a dedicated software license.