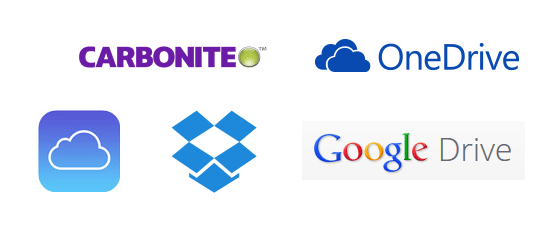 Backing up your computer, mobile phone or tablet PC onto another drive at home is a quick and easy way to try and prevent data loss in the event that the device has a failure. The big problem with this is a catastrophic failure such as a home burning down will not prevent the loss of that data. This is where remote storage comes in handy for ensuring that vital data is not lost from just such an event. In the past, many companies did this by using tape backups that were generated at their servers and then shipped off site for storage. Thankfully networking and storage has improved that we can now do these tasks over the Internet in what is frequently called cloud storage.
Each of the major companies has developed a cloud storage service that can be activated and used with their devices. While those services may have been developed with a specific product in mind, they have expanded out to more devices in response to the third party solutions that are available and can be used across multiple platforms. So let's take a look at what it means to use a cloud storage service and some of the options available. Continue reading →
Continue reading

It seems that our entire life is store in our digital devices now. Photos, video, music and documents are all stored on our computers. You once used to have to worry about fire destroying these objects in your home but now a simple hard drive failure can lead to a huge loss of this personal information and data. Almost a decade ago, just such an instance happened to my parents when their desktop hard drive failed causing them to lose all of their digital photographs and documents. I personally have digital photos dating back to 1997 still on my computer. This is why it is extremely critical for people to setup some sort of computer backup for their data.

The easiest way to create a computer backup is to just have your data stored locally either on a secondary internal hard drive or through an external drive. While this still wouldn't properly save data in the event of say a fire that destroys an entire house, it does resolve the more common issue of a failure of the drive within the computer. Continue reading →

This past weekend, the first major storm of the season hit my area with some fierce winds. This resulted in a roughly ten hour blackout to a huge region around me. In our ever connected world, this can be a real problem as we are so reliant on being online. Thankfully, I have a number of uninterruptible power supplies (UPS) attached to my various electronics. These are valuable in many ways and something that most people don't necessarily consider using in their home. With them, I was able to keep using my devices for upwards of two hours during the blackout. So, is this something you should consider using for your home electronics?