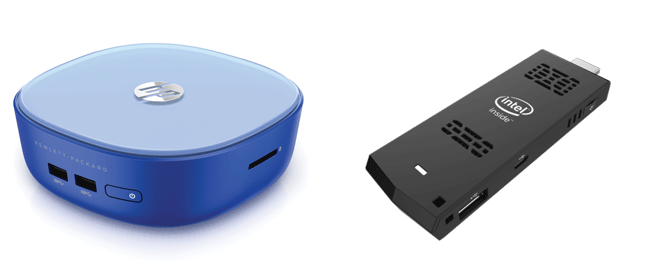 CES has many notable computer related announcements, but probably the most exciting are two compact computer options that run the Windows operating system and do it for under $200. Mind you, these Windows mini PCs are not in the same class as your desktop or laptop computer but they are still very interesting with a wide range of potential applications. Businesses may like them for their low cost and ease of deployment and consumers may like the added flexibility that they provide in certainly applications in addition to their price. So let's find out a bit more about these new computing options being released this year.
HP Stream Mini
Announced at the beginning of CES, HP is taking their concept of a $200 laptop from their and moving it into the desktop realm with the . It looks like a small puck with the same colorful design as the Stream 11 laptop designed to be used as a compact desktop or even a nettop box to a home theater system. It is just two inches tall and weighs a surprising low 1.6 pounds that it could even be taken with you when you travel.
So, why is this device so exciting? After all, it has just a Intel Celeron 2957U dual core processor, 2GB of RAM and 32GB of storage. This means it is not very powerful and has extremely limited storage. The main reason it is so exciting is that it has great potential to be used as a low cost streaming PC in a home entertainment system. Sure, at $180, it is twice the cost of a high end box like an Apple TV, Roku 3 or Amazon Fire TV but it has a full Windows 8.1 operating system meaning that you can do so much more.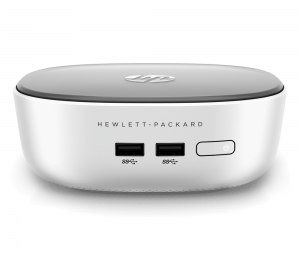 Of course, if you find the HP Stream Mini Desktop to be a bit underpowered, HP is also releasing a HP Pavilion Mini Desktop with more powerful processors, more RAM and larger storage with a starting price of $320. Most people these days are just using their PC for online browsing, social media, media streaming and a little productivity, so they may be more than enough for their basic usage and could completely replace a desktop PC.
We won't have to wait long though as HP is planning on releasing them online in mid-January with retail availability in early February.
Intel Compute Stick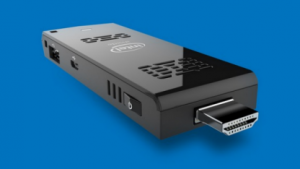 And if the HP Stream Mini Desktop is too big and too expensive for you, Intel announced the at their CES keynote. Rather than a box, this computer is the size of a large USB stick but with an HDMI connector for plugging into a monitor or TV. It will only cost $149 but does sacrifice performance by using an Intel Atom quad core CPU with the same 32GB of storage and 2GB of RAM. It will include a full version of Windows too at this low price. If that is still too high, then you can always get the $89 Linux version but it will only have 1GB of RAM and 8GB of storage.
Intel mainly is looking at the Computer Stick as something that companies will use in place of larger desktops for thin clients. These are devices that are not intended to have a full installation but are mostly virtual hosts for remote desktops and applications. It certainly is extremely cost effective and easy to deploy. Consumers though may also have strong interest in them. After all, the computer is extremely portable and can be hooked up to virtually any HDTV with its HDMI connector. You will still need to use an AC power adapter for the mini-USB power connector and supply either USB or Bluetooth mouse and keyboard to make it work fully.
These features make the Compute Stick very attractive as a streaming PC option that you can just plug straight into a PC. The best part is that it is so small and compact, that it also makes a great option for those that want to use it on the road via a hotel TV for streaming digital media or just checking up with email and social media beyond a tiny tablet or smart phone screen. It is expensive when compared to the Roku Stick or the Amazon Fire TV Stick which cost around $50 for those wanting to just do streaming.
The Compute Stick is expected to be released sometime in the middle of 2015. Full specs and pricing have not been released yet.