Sized Right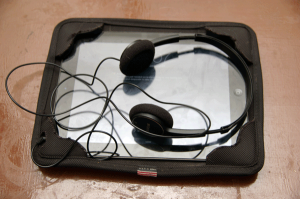 One big problem is that many headphones are just made for as many people as possible. The result is a highly adjustable design that goes from a large adult down to a small child. The problem is that for small kids, the headphones can still not quite fit such that they slide off their head. I notice this problem while volunteering at my son's elementary school computer lab where several children have issues with the supplied headphones. The Sony MDR-222KD are smaller than your standard headphones. This means that adults won't necessarily be able to wear them but they rest nicely on my son's head. He still fidgets with adjusting them but they stay on just fine even when he is moving about or just being animated while playing a game.
Open Ear
There is a big trend right now for in-ear headphone buds. These are actually very bad for young children to use. First, their ear canals are smaller so most will not fit. Trying to make them fit can lead to ear aches and injury. Secondly, they concentrate the audio waves within the ear canal that can lead to hearing damage with higher volume levels. In addition to this, the design will block outside audio. This can be a very large problem when you are are trying to get the attention of your child when they use headphones. Now there are large closed ear headphones that are available that avoid the in-ear issues but they still block the outside audio. This is where the open ear design of the MDR-222KD are beneficial.
Low Volume Output
As mentioned with the ear canal headphones, loud volumes can be problematic for a developing child's hearing. Sadly, many devices including tablets and smart phones tend to produce very high volume levels. This is something I have also seen in a number of children's applications that are much louder than usual with no volume adjustments that can be locked by the parent. My son loves to keep his iPad at full volume at all times which is very disruptive. The Sony MDR-222KD deals with this by putting a resistor between the source and the speakers. The result is a much lower volume output level to protect the child's hearing. It is just loud enough that they can get all the detail level without overpowering outside noise. To date, my son has never complained about the volume being too low or being unable to hear yet they are not too loud when I have tested it with his various loud applications.
Single Cord With L-Shaped Plug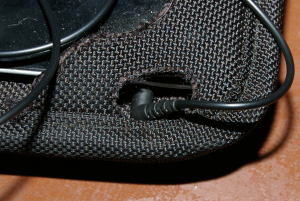 Many low cost headphones still continue to use a split cord design that has a wire running to each speaker. The extra cables between the headphones can get in the way of children trying to put on or put away the headphones. The MDR-222KD use a single cable that runs up to the left ear speaker and then runs internally to the right ear speaker through the headband. This helps keep cable clutter to a minimum. In addition to the cabling, the headphones also use an angled or L-shapped connector. This is important as the shape allows it to work with small clearance jacks such as the iPhone. It is even able to fit in properly with my son's iPad in its overly large case.
Conclusions
My son has not been thrilled to use headphones much. He loves to play games, watch movies or use interactive books on his iPad at full volume which was disruptive to the rest of the house. He tried using some of my headphones in the past but he did not like to wear them because they tended to fall off easily. I got the Sony MDR-222KD in an attempt to find something that would work well for him. I hooked up the headphones for him to his tablet while he was at school and showed them to him when he got home. He took to them in no time and now wears them anytime that he uses the iPad. He also can use them when he plays with an old Nintendo DS portable gaming console or visits educational web sites on a laptop.

Overall, the $15 price that I paid for the headphones was well worth the cost as it has reduced the amount of noise disruption in the house. They are also just right in terms of the volume with his devices such that he can hear what he is doing just fine without risking his hearing.
About the only complaint is the lack of a volume control on the cable to further adjust down volume if needed but the resistor does a fine enough job that leaving a device at full volume isn't an issue until the headphones are unplugged of course.

It seems like just about anything that is designed for kids makes noise and lots of it. This includes digital music, movies, video games and even educational applications for computers and tablets. One of the ways that parents can regain their sanity is by having the kids use headphones with their electronic devices. There are a number of issues that can crop up from using headphones with a tablet, portable game console or even a computer though. Many children's headphones on the market are just low cost options that have different colors or plastic designs such as animals to attract kids but don't address much else. Sony avoids the cutesy (other than an optional pink color) aspect and have hit upon the right balance of features with their MDR-K222D headphones.