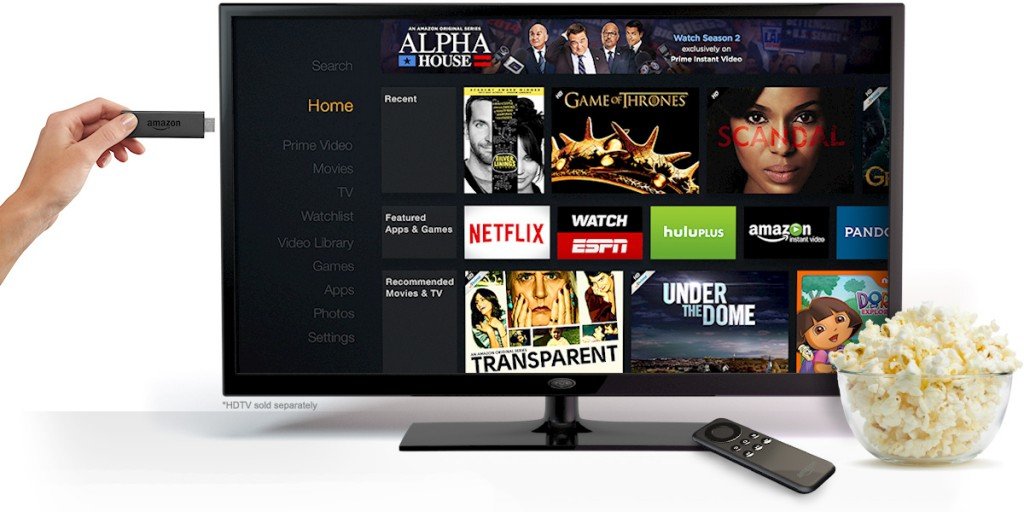 Amazon's Fire TV was released earlier this year and has had some good sales according to Amazon's recent financial statements. Building on the success of their $99 streaming device, Amazon has just announced their new Fire TV Stick available beginning November 19th for just $39. That is incredibly inexpensive price that is less expensive than the Roku Stick ($50) and slightly more than Google's Chromecast ($35). Amazon Prime members are getting a special offer of just $19 if they order the device before October 29th. So how does this stick differ from the more expensive Fire TV and is it worth considering?
What You Get
Obviously the Fire TV Stick is not going to have the same performance and power of the Fire TV but it certainly seems to be fairly powerful considering its price. The small stick is not much different physically from its competitors. The stick measures about three and a half inches long by one inch wide and half an inch thick. It features an HDMI 1.4b port to plug directly into an HDTV and uses a micro USB for the AC power adapter. It also includes a wireless remote for navigating the device.
In terms of the hardware inside, it uses a dual-core ARM Cortex-A9 based processor with 1GB of memory and 8GB of storage space. This is where it really sets itself apart from Chromecast and Roku. It offers higher performance (dual core vs. single core) and more storage (8GB vs. 2GB or less). In addition to this, the wireless built into the device supports 802.11a/g/n networking standards and has dual-antennae with MIMO support for better networking capabilities than the Chromecast.
Streaming and Mirroring
While you might think that the device might only support the Amazon Instant streaming, it actually will support other major streaming services such as Netflix, Hulu Plus, Spotify, Pandora, YouTube, Vevo, Vimeo, Twitch and Showtime Anytime. Just like the launch of the Fire TV, HBO Go's service seems to be absent which is disappointing with HBO's statement that they intend to sell access with the need of a cable subscription. Video output support is up to the full 1080p hih definition specifications with 60 frames per second. It also is Dolby Digital Plus certified for 7.1 audio output.
In addition to streaming from these devices, the Fire TV will support mirroring from tablets onto the HDTV using compatible applications on iOS and Android devices. It also supports the second screen and X-Ray features when used with compatible Amazon Fire tablets.
Voice Search Supported but Not Standard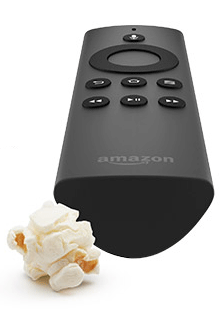 One of the disappointments of the Fire TV Stick is the lack of the Voice Search support like the Fire TV device in the base package. Now, it does technically support the feature but it requires either the purchase of an accessory ($30) or using a Fire TV Remote application on an external tablet. This is one of the better features of the Fire TV streaming box and it would have been nice to see it a bit more integrated into the base package instead of an optional remote or app.
Game Support

Just like the Fire TV, the Fire TV Stick offers support for the purchase and play of games from the Amazon app store. To get the most out of the games, you are once again required to purchase the for an additional $40. It should be noted that the Fire Stick TV also has less performance than the Fire TV box. This means that some of the higher end games may not be supported. If this is something that you might be interested in, you might want to hold off buying it till after it is released to see what people have to say about its actual gaming ability and support.
Final Thoughts
As consumers become less tied to the cord for getting their media, devices like the Fire TV Stick add a very convenient and inexpensive way to get our entertainment. This is particularly true if you happen to be traveling as the small stick devices are easy to pack and hook up to any old TV in a hotel as long as you can get Wi-Fi access. Pricing seems to be really good if you don't mind the standard package. If you want the voice remote and the game controller, the pricing ends up being too close to the that includes the larger Fire TV, Game Controller and a couple of games. Of course, if you are an Amazon Prime member, the $19 introductory offer is a must-by.