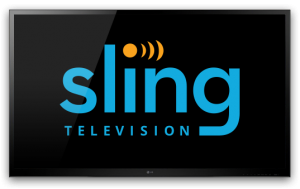 More and more consumers have been cutting the cord by moving away from expensive cable and satellite TV packages to streaming services like Netflix, Amazon and Hulu. While these provide a large amount of content for consumers, there are some big features missing including a fair number of cable channel content and live TV due to the various contracts that studios and sports leagues have. Back at CES, Dish Network announced their new Sling TV venture that promised to usher in the era of live TV streamed over the internet. Now the service is starting to trickle out to press and individuals invited into the preview. Does the service live up to the hype?
What Is Sling TV?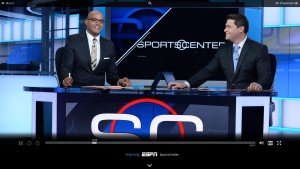 In essence, could almost be considered like having a cable package but watching it over the internet via a tablet, smart phone, computer and even your TV. Currently, the service supports devices running Android or iOS, computers with Windows or Mac OS X and compatible browsers or the Roku streaming devices. Additional streaming devices will be added in the future. Unlike other streaming service, the emphasis here is on live TV rather than older programs and movies that can be streamed upwards of a year or more after they have aired. The base service is $20/month and provides a list of twelve channels:
ESPN
ESPN2
TNT
TBS
Food Network
HGTV
Travel Channel
Adult Swim
Cartoon Network
Disney Channel
ABC Family
CNN
The most prominent of the channels featured on the list is ESPN and ESPN2 which is a major difference as live sports coverage is something that has been missing from all the streaming services. The only options many people had to watch them was to use very expensive annual contracts through the various sports leagues and often with cable or satellite contracts. This is probably going to draw the most customers to the services.
Bundling and Pricing Issue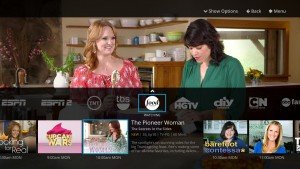 Just like the cable and satellite subscriptions, you will notice that there are some gaps in the types of programs offered under the base plan. For instance, there is only a single news channel and some major networks like Discovery with its various science content is also missing. To address this, Dish will be offering additional channel packages to the base program. They already have plans for a Kids Extra (Disney Junior, Disney XD, Boomerang, Baby TV and Duck TV) and News and Info (HLN, Cooking Channel, DIY and Bloomberg) packages which each costing $5/month on top of the basic $20/month subscription.
This brings up the issue with price. $20/month is certainly much less expensive than most cable and satellite subscriptions which makes it sound great. Put it up against the other services and it is downright expensive. The three major services each come in at under $10/month and they have a much larger catalog of content to view. This is where they are going to find major resistance with consumers especially given the limited number of channels supported. Once you start adding in the cost of the bundles, the cost of Sling TV ends up being as or more expensive than subscribing to all of the other major services.
Sorry, You Can't Watch That
Another issue that many subscribers will run into is limitations to the service. For instance, most of the programming is only available as it airs over the networks. This means that you do not have the ability to time shift the programs at all. Similarly, you won't be able to watch say a program or game after it has aired. This may not be an issue for those used to cable and satellite and watching live but more and more cord cutters are used to watching the programs they want whenever they want.
To make matters even worse, not all programs will be able to be viewed even on the Sling TV service. This has to do with content producer contracts with other service. For instance, some sports leagues have contracts with other providers that state that streaming to phones can only be done on a specific provider or service. This means that some sports events that are broadcast on ESPN will be blocked from Sling TV users wanting to watch it on their phone.
Finally, the Sling TV subscription is only sold as a single stream service. Those who use Netflix are probably aware of the number of streams supported. Their base service only includes a single stream. This means that only one account holder can be watching a program at a given time. If a second family member tries to view any of the Sling TV program from another device at the same time they are blocked. Now, Netflix allows you to pay for additional streams but it appears that this is not an option with Sling TV at this time.
Final Thoughts
In terms of the software and the use of the Sling TV, the service seems to be extremely well designed. This is probably because of the years that DISH Networks had to work with its various satellite receivers and the Sling Box media players. It is a strong effort and certainly a step in trying to fill the gap in the internet TV services. There are just too many smaller issues plaguing the service right now and it is extremely similar to the problems that the music industry faced with digital media and streaming. The studios and content providers are too entrench to try and experiment with newer services.
I think the success of the service is clearly going to rest solely on ESPN being on the service. There is not enough channel content for those wanting to watch traditional programming of comedies and drama with the current channel lineup. The price certainly does not merit it compared to the other streaming services as well expect when it comes to the sports programming. The big question will be, are there enough die hard sports fans will to spend $20/month to view ESPN from almost anywhere?