Laptop Backpack
The number of books that students have to carry around can be a huge pain. Add a laptop on top of this and it can be a very heavy load to carry. A backpack is one of the most ergonomic ways to carry all of your stuff but you want one that is designed for a laptop so that it can be protected from the rest of the items you have to carry. The Targus CityGear Chicago is an affordable and well made backpack. It features a good amount of padding and straps for comfort and optional features such as pass through for cables so you can use headphones with your electronics. The padded slot is large enough to fit up to a 16-inch laptop and there is even a padded slot for a tablet as well. Just be warned that this is large so if you can't have a lot to carry it might be more than you need.
Laptop Messenger Bag
If you don't have a large number of books to carry around frequently or you don't like the styling of a backpack, then a messager bag is always an option. The TimBuk2 Command is a great bag because of its solid construction and its padded compartments for both a laptop and a tablet. It features a wide strap for extra comfort and ballistic nylon construction to be extremely durable. Unlike the backpack above, it is also available in a wide range of color and size options to customer your bag to fit your needs and style. Some versions even feature different fabrics if you don't find ballistic nylon to be a huge fashion statement.
Laptop Sleeve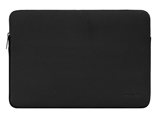 If you already have a bag that you are going to use but it does not have a padded compartment for a laptop computer, you can always get a sleeve. This is generally a small pouch made of a material like neoprene to provide protection for a laptop. This helps prevent the system from being bumped or scratched from other items in a bag. The main thing to know is that sleeves can vary greatly in size so you need to make sure you purchase one that is either custom fitted for your laptop or verify the measurements allow it to properly encase the laptop without too much extra space.
Wireless Mouse / Trackball
One thing that many people hate to deal with on their laptop is the trackpad. They can be awkward or difficult to use especially if you have to do a lot of precise movement. An easy way to deal with this is to add a wireless mouse. Something like the Logitech Anywhere Mouse MX is a nice compact size and uses a small wireless dongle that fit neatly into an available USB port such that you shouldn't need to remove it. It works with just about any surface and is compact enough to carry and store when not in use. I am still partial to using a trackball over a mouse though because they can be used just about anywhere and do not require a flat surface to use. The drawback is that it is much larger so not as easy to carry but certainly much better to have at a home or dorm desk to use with the laptop.
External Hard Drive
Many of the new ultracompact laptops tend to use solid state drives rather than traditional hard drives. This is great when it comes to the performance but they generally have very limited storage space. An external hard drive is a simple solution that can allow you to easily carry more data with you. This is especially useful if you intend to carry around a lot of digital music or video with your computer. There are a wide range of drive options available but I generally recommend the smaller drives like the Seagate Backup Plus Slim drives. Why> Well, they are small and can be used off of a single USB port without requiring additional power cables. The drive is compatible with both Windows and Mac and is available in a wide range of sizes but I suggest the 2TB as the best value.
Cloud Storage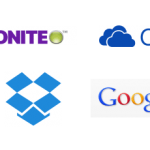 This isn't so much as an accessory but a service that could be invaluable to any student. Cloud storage allows files to be saved from your laptop into an online system. It can be used as a backup for critical files or for sharing files with other students when collaborating on projects. Most of the services offer a small amount of storage for either free or a very low cost. If used as a backup, it can be extremely useful in saving a students work in the event of a laptop being broken or stolen as the data can be accessed securely from another system. Prices and capacities vary between the different services.
Portable Speakers
Let's face it, most laptops do not have the best of speakers. AS laptops continue to get smaller, so do their speakers. This makes them more difficult to hear and generally less then stellar at reproducing accurate audio. If you intend to use our computer for entertainment either watching video or listening to music, you probably want better speakers. I really like the iHOME IHM79 speakers. They are very inexpensive and compact but provide some really high quality audio. Part of the reason they are so good is they are amplified but they don't require power cords as they are recharged via a USB cable. About the only downside is that the 3.5mm audio jack cables are fairly short which can make placement of the speakers very restricted.
Headset
Often times students will need to work in a common area like a library that doesn't allow for noise that would disturb others. In cases like this, a good set of headphones can be invaluable for listening to music while doing your work. I actually recommend a headset over traditional headphones though as it allows the student to also communicate with others through VoIP or other chat services. I like to recommend the Sennheiser PC310 headset as it provides great audio and are extremely comfortable. They are partially closed speakers which helps reduce audio into the surround environment. The 3.5mm audio jacks means that can work with just about any laptop on the market. Another nice feature is inline volume controls and mute switch.
External Monitor
Laptops are great to carry around but when you are at home or the dorm, sometimes it would be nice to have a larger screen to work with. An external monitor can allow you to not strain to see the compact screen when you are working or watching some movies or video= entertainment on a larger screen. The 24-inch screen size is a nice balance for cost, screen resolution and size that lets them fit well into just about any type of room. The ASUS VG248QE is a display I like for a number of reasons. First, it features connectors that will let it work with just about any type of laptop. Second, it offers a great level of adjustment so that it can be positioned ergonomically. It even has speakers built in which can help deal with the limited speakers inside of laptops. But best of all is has a really nice 24-inch display panel.
Security Cable
Laptops are an easy target for many thieves. They can be quickly snatched away from a person and then turn around and sold. Most laptops feature a Kensington security slot. This is a small notch in the side of the system that allows for a security cable to be attached to the laptop and then locked down to a desk or table. This helps prevent the easy snatch and grab that many thieves use and gives the student piece of mind if they happen to be distracted by other work to keep an eye on the computer. The Kensington Combination Ultra Lock is a very affordable option for those that would like to secure their laptop in such a many. lock and cable are also very compact making it easy to toss into a bag when you are not at home or the dorm.

Having a computer to use for school is essential. In order to get the most out of your computer experience, you probably need to accessorize. They could be to help you carry it around, protect it, expand the storage, make it easier to use or enhance its ability to be used for entertainment. This article is going to highlight some of the accessories that I think can really make the use of a laptop at school better. Remember that these are all optional but some of them might be more useful than others.