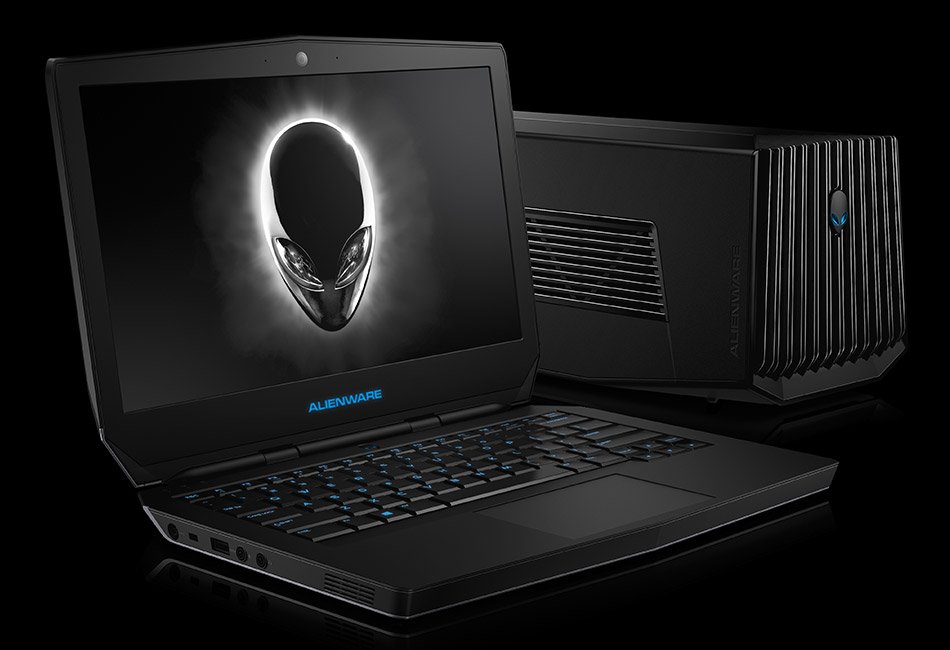 Alienware makes some capable gaming laptops but they have not been extremely innovative in the hardware the past couple of years. Sure, they had some cosmetic additions but little when it comes to performance in gaming. Many of their competitors have been looking at offering mobile gaming performance in thinner and lighter designs. With their latest Alienware 13, they are looking to make a more compact gaming laptop that also has the potential for some very powerful performance that can be upgraded over time. This has always been a problem for laptop computers as their graphics are generally set at the time of purchase and can never be upgraded. How is Dell able to pull this off for their new compact gaming laptop?
The Laptop Hardware
So one of the big goals of the Alienware 13 is to make the system more compact. Most of the Alienware systems are well over an inch in thickness and tend to be quite heavy. Side by side with its other laptops, the Alienware 13 is quite svelte at just over an inch in thickness but it is still quite far from the but it weighs roughly the same.
The processor for the Alienware 13 is the Intel Core i5-4200U dual core mobile processor regardless of the configuration that you select. This is an ultra-low voltage processor common to many ultrabooks. It is a decent processor and will handle PC gaming that is mostly graphics limited these days but it is not something you really expect in a gaming system. After all, others are using higher performance processors in smaller designs.
The graphics are also fixed regardless of which configuration you get. It uses the NVIDIA GeForce GTX 860M which is a generation behind the latest 900 series graphics. This graphics solution is not uncommon as it does have the performance to get up to 1920×1080 resolutions in many current games but sometimes filters or detail levels have to be turned down to keep frame rates above 30. It certainly is questionable as how well it will handled new AAA gaming titles in the next couple of years.
So, what is the difference between the $999 base and higher systems then? The storage capacity and memory do differ slightly from 8GB to 16GB of memory and 500GB hard drives to a 256GB solid state drive. In terms of gaming though, the display panel comes in one of three resolutions with 1366×768 for the base model which is sadly disappointing for a gaming system. The next step up is the 1920×1080 panel that you would expect for a gaming laptop. Finally, there is the 2560×1440 panel that offers higher resolutions but the graphics will struggle to run at in most modern games. This is where the new expandable graphics become key.
Graphics Amplifier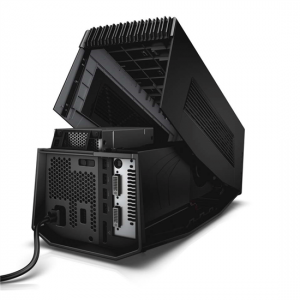 The solution that Dell has come up with the Alienware 13 is something they call the Graphics Amplifier. In essence, it is an external enclosure that houses a standard desktop PCI-Express graphics card that then connects to the laptop through a proprietary cable and port on the laptop. This is something that was tried in the past with some laptops using the ExpressCard slot that was once fairly common on laptops but it never really caught on because of some of the technical issues involved.
While this solution does indeed allow the graphics for the laptop to be upgraded to any current desktop graphics card say like the new NVIDIA GTX 970 or 980 cards, it is effectively making the laptop and its overall graphics performance into a desktop system as the amplifier is certainly not something to carry around with a laptop. For one, it requires AC power unlike the laptop that has internal batteries.
Now the Graphics Amplifier does have a bit more flexibility that past solutions because it does not require an external monitor to use. Yes, the graphics amplifier can be used to accelerate what the laptop shows on its display. This is something that would certainly be beneficial for those looking to get the Alienware
13 with the 2560×1440 panel and play at full resolution with fast frame rates. It can also be used with external monitors as well if you would prefer to say game at 4K when at home.
The Graphics Amplifier costs $299.99 without a graphics card installed. So in addition to the external unit, you also have to buy the graphics card which can cost upwards of $500 or more. With the low general performance of the Alienware 13 from the ultra-low voltage processors, gamers might want to spend a bit more and get a faster desktop system for home and then just use the laptop when on the go.
Is This Something to Consider?
By itself, the Alienware 13 is a decent if a bit limited compact gaming laptop with a decent starting price. There are better options out there for those that want either better performance or portability but they will generally cost a bit more. But what if you factor in the Graphics Amplifier? It does at least let the Alienware 13 be a viable gaming laptop for longer than those that have fixed graphics but it becomes less portable in order to achieve that. The cost is the prohibitive factor here. For several hundred more than the cost of the Graphics Amplifier and the graphics card to go in it, you can build a higher performing desktop system. The only downside is that you will of course be completely limited to the desktop to have that performance and would need an external monitor which you don't necessarily need with the Alienware 13 plus the Graphics Amplifier.
I would say the success of this solution is going to depend on if the Graphics Amplifier port is going to be integrated into future versions of Alienware's larger laptop systems which are more popular for those concerned about high performance gaming might be willing to trade portability for the ability to upgrade the graphics without having to replace the whole laptop.