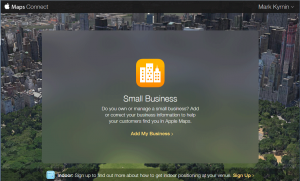 Do you happen to own a small business and want to have it displayed on Apple's Maps program? Many major businesses have their location placed on Apple's maps so why should yours be any different? This can be extremely useful in getting new customers to your business or just making it easier to find your location. Well, Apple has opened up its new Maps Connect service so you can do just that.
The process is actually quite simple. One just needs to login with an Apple ID, agree to the terms and then input the information like the business type, address and contact information, and the store hours. Right now the Apple Map Connect service is only available in the US.
If you want to also be listed in Google Maps and search results, you can register under their service which has been around for a while.