Familiar with what Siri and OK Google are? They are essentially voice activated assistants that can look up information and execute specific programs through Apple and Android smartphones and tablets. The Amazon Echo is essentially that basic technology integrated into a network connected wireless speaker for use in your home. Of course, Amazon wants you to get really excited for it by showing off all the different ways it can be used. So, let's take a look at some of what it can do and what concerns consumers might have by putting this technology into their home.
The Hardware
Amazon's Echo is essentially a cylindrical wireless speaker with additional features integrated into it. It has a diameter of roughly three and a quarter inches around and over nine inches tall. Unlike many wireless speakers though, this one does not have internal batteries and will be plugged into an AC outlet for power. This is important because the device is essentially always on. In terms of the speaker capabilities, it is a mono speaker system with a 2.5-inch woofer with reflex port and 2-inch tweeter. Outside of the speakers, the device also features seven microphones around the device to help it pick up voice commands.
The main wireless connectivity with other devices is through Bluetooth which is used by most smartphones and tablets. This allows it to stream music or audio stored on your device or streamed through one of the many applications you might have on your device. In addition to the Bluetooth, it also has Wi-Fi connectivity. This is essential for the voice activation capabilities but it can also be used for streaming audio through Amazon's cloud services as well.
What Can it Be Used For?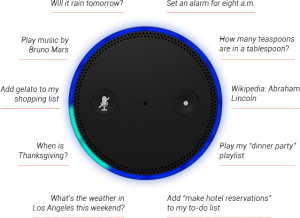 Obviously it can be used as a wireless speaker but the Echo is more about the voice features and what it can do. The primary feature is looking up information. Based upon the details that Amazon has shown in their video and their web pages, this can essentially be almost any information that can be looked up online through Amazon's cloud service. Examples give are date, time, weather, conversions and reference data.
The second function looks to be control of media. This could be requesting that the device start playing a specific piece of music, controlling the track list and volume levels or just requesting that news clips be played.
The third ability is to record specific information or commands for later use. Examples include setting an alarm, adjusting to-do lists and of course shopping. This last ability is something that Amazon will probably be very keen on getting people to use as I suspect that it will tie into Amazon's shop services directly.
Or you can watch Amazon's video about it:
How Does It Do This?
Remember those seven microphones and the Wi-Fi connection? Essentially, the Echo is always listening to the environment. When it detects the wake up word (Alexa in the video), it starts recording that command which is then transmitted over the Wi-Fi connection to Amazon's Cloud computing systems. This is then interpreted by the cloud and then acted upon. This is essentially the same general method that both Apple and Google use for their voice agents as well.
Those concerned about privacy might be concerned with a device in their home that is always listening and can potentially end up sending that audio to a third party (in this case Amazon). Both Apple and Google have had to deal with these same concerns and they addressed it by settings that can require an action on the device in order to actually record your voice command. It looks like Amazon has taken a similar route by including controls on the top to turn off the microphones and an action button that probably allows adjusting the settings of the device and activating voice when the mics are off.
Remote App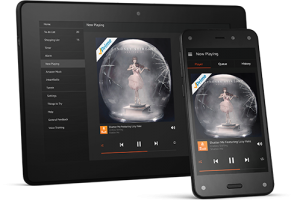 Now the Echo device can also be accessed through an app for Amazon Fire and Android devices. Apple users are going to be out of luck here at least for the near future. It may be that they are still developing the iOS app for later release. In the mean time, Amazon mentions that it can be access through a standard desktop or iOS web browser. The app supposedly will control the media functions, alarms and shopping lists but there is no mention of it being used for reference look ups like the voice agent can.
Pricing and Thoughts
Amazon lists the base price for the Echo device as $199. This makes it relatively expensive if the primary function you are looking at it for is a wireless speaker. Amazon Prime members look like they will be getting an incentive for a while to get it for $99 which makes it more attractive at least for that capability. Availability of the device is still in question as well since you must request an invitation for when they release the initial devices in the coming weeks.
Now in terms of the voice functions, it seems like this is going to have limited appeal. After all, Apple and Android smartphone users already have many of these capabilities build into the device. Why get the Echo when you can just pull out your phone and do the same thing? This is where Amazon is going to have to work the hardest to convince potential buyers that it adds something extra. Sure, you don't have to pull out your phone or tablet to access it, but is that really worth the cost of not having to pull out the device?