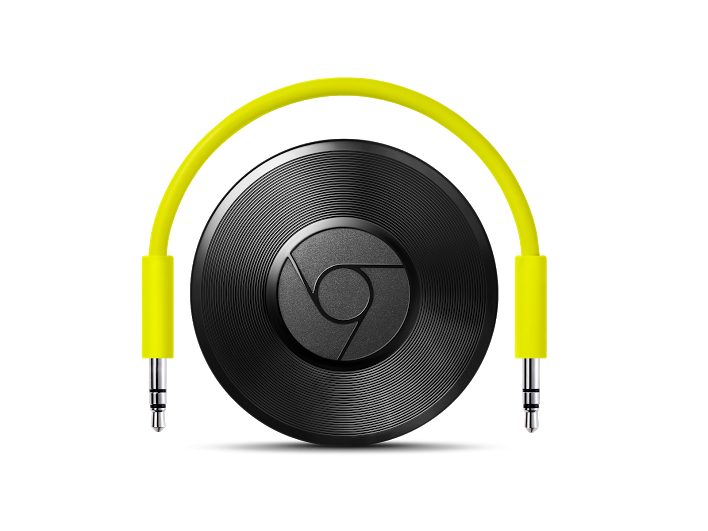 At Google's latest press event, they announced a number of new products including the new Chromecast Audio device that takes the concept originated with the Chromecast and making it an audio only device to allow people to transfer audio from their mobile device to a set of speakers for improved audio. The idea seems like a good one as it certainly is far more affordable than many other streaming alternatives such as receivers or speakers with built in wireless applications. The thing is, it is not really a new concept. Sure, it is affordable but did you know that there are similar devices that cost roughly that same and can be used on just about any mobile device?
Chromecast Audio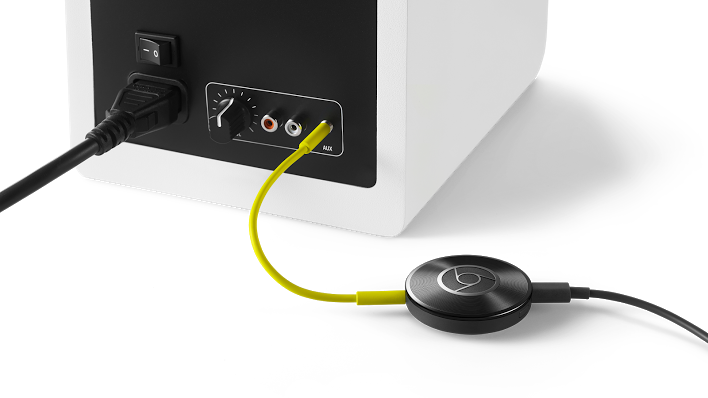 Just like Google's new Chromecast, the is a small circular device but it is built exclusively for audio rather than video. The company wants to make sure you get this by styling the device to look like a vinyl record. It is just over two inches in diameter making it very small. It only has two ports on it. One micro USB connector is used for power to the device and a multifunction 3.5mm output jack for plugging it into a stereo or speakers. The device short 3.5mm auxiliary audio cable but it can also be plugged into a stereo either through a 3.5mm to RCA stereo cable or an optical cable.
The device uses standard 802.11ac Wi-Fi networking for connecting to devices and streaming. This has a major advantage of allowing streaming from other rooms which many of the other standards do not support. Most devices are currently supported but it is only supported for a limited number of applications right now such as Google Play Music. This does hamper the device as it would be nice to allow the Chromecast Audio to essentially act as a remote speaker for any audio rather than just supported applications.
Priced as just $35, the Chromecast Audio is certainly very affordable when compared to other Wi-Fi streaming devices such as the or even something like the Amazon Echo but it offers far more than just audio streaming.
Bluetooth Speakers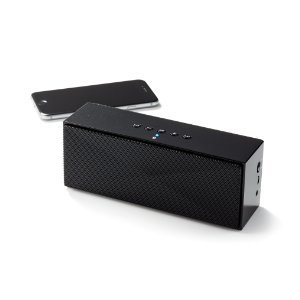 But what about wireless speakers? Bluetooth has made connecting up portable audio speakers quite convenient. In fact they have a major advantage over the Chromecast Audio in that they are often self contained systems with batteries that do not require additional power just to connect your mobile device for streaming music. Just turn on the speakers and pair it to your device and you are ready to go.
The issue with these devices is that you are limited to the quality of the speaker. Sure there are plenty of small Bluetooth speakers that can be found for less than the Chromecast Audio but the quality of the audio is not going to be as good as hooking it up to a home stereo system. Then there is the limitations to the range of the Bluetooth audio that means the device connected to the speaker needs to be without roughly thirty feet. Of course Bluetooth audio can be used by more than just wireless speakers…
Bluetooth Audio Adapters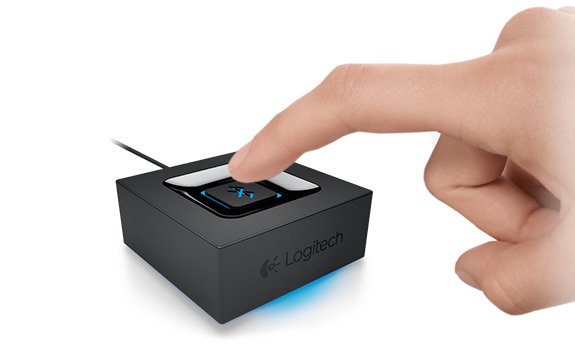 Now there are plenty of Bluetooth speakers on the market that range in price and size. But what if you would rather have it stream directly to your stereo system instead of having to use a specific set of speakers? Well, that feature has been around for a while and the devices to do it are frankly the same rough price as Google's new Chromecast Audio. Let's take a look at two different products available for tying your mobile devices to a stereo system.
First, we have the Logitech Bluetooth Audio Adapter. This is a $40 device that connects into a stereo system through standard RCA stereo cables. Simply connect it to an input on a stereo system, press the button on the top of the small box to pair your mobile device and then start streaming audio from any application on your device to your home theater setup. It is also possible to setup the audio adapter to other audio devices or speakers that have an auxiliary 3.5mm audio input. This makes the it flexible and extremely easy to use. About the only downside is that it does not offer optical like the Chromecast Audio.
$40 too expensive for you? Don't care about having RCA outputs on your adapter device? You can always look at the AmazonBasics Bluetooth 4.0 Audio Receiver. It is very similar to what Logitech offers by using the same Bluetooth 4.0 profiles but it only features a single 3.5mm audio output. You can use the supplied 3.5mm to RCA stereo cable to connect it into a home theater receiver to play music through your home stereo system or your can buy a separate 3.5mm audio cable and plug it into a speaker or other audio device with an auxiliary input. Roughly the same level of features but for only $30.
Both of these devices have been around for a while and offer some good quality audio transferring from any mobile device that can sync via Bluetooth. Of course, Bluetooth audio streaming has its limitations. Most notable is the limited range of the Bluetooth signal to roughly 30 feet or 10 meters. Beyond that and audio quality can be significantly reduce or disconnect the device entirely. This is one area where the Wi-Fi streaming of the Chromecast has an advantage. As mentioned before though, Bluetooth audio syncing and streaming is supported by a wider range of devices and just about any application.