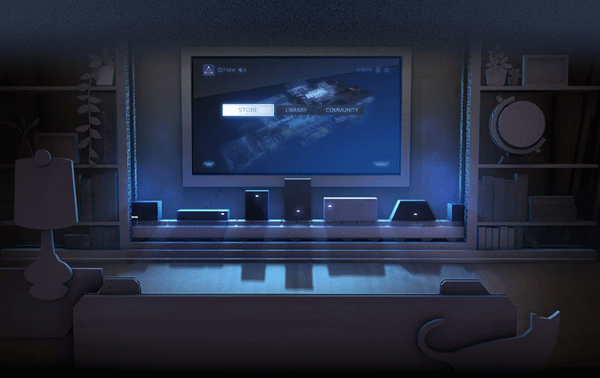 Personal computers have had a long and rich history of gaming behind them. Most people however do not use their computer for gaming and instead use a dedicated console such as the Microsoft XBOX, Nintento Wii or Sony Playstation. As personal computers have become smaller and more powerful, they now have the potential to be easily integrated into a home theater with a big HDTV. The PC has never really been standardized like a console making this something up to individuals and manufacturers to create PC gaming systems available that would be used as gaming specific home theater PCs. Valve has made two very vague announcements regarding a new software and hardware platform that they hope will turn the PC into a dedicated console. But how will this exactly work?
SteamOS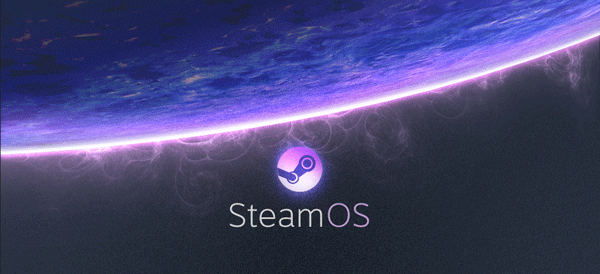 The first part of Valve's announcements to make PC's home gaming consoles is the . This has apparently been in development for some time at the company and is a customized Linux distribution that is built around Valve's Steam gaming service. This isn't a huge surprise as the company has been working for some time to generate better support for PC games through the Linux operating system. By creating their own software distribution, it should allow for a better standard software installation to ensure greater levels of compatibility with titles that are released through their Steam service. Supposedly it will also feature improvements in graphics, audio and input latencies to be better suited for PC gaming.
So what's the big deal? After all, Valve introduced the feature for the Steam software on PCs and Macs. This changes the client interface to be better suited to large screen TVs that are viewed from a distance rather than up close like a standard PC. It is also optimized to be used with a game controller for navigating through your library, store, community features not to mention the games. The are also beta testing the system in the standard desktop clients which they are making a big deal of for the SteamOS.
The big feature of the SteamOS is the ability to stream any PC or Mac game to the TV beyond just those games that can run natively under Linux. The library of games that can be played under Linux is growing and in the hundreds now but there are thousands of available games available through the Steam service for PC and Mac. The SteamOS will allow the streaming of any of these games from a PC or Mac with the Steam client to a SteamOS powered machine hooked up to an HDTV. This is something that NVIDIA is already experimenting with in regards to its NVIDIA SHIELD Android gaming device.
Valve also claims that the SteamOS will be available for free for users to download and install on their own computer systems. This makes the software hardware independent which is dramatically different than any of the dedicated video game consoles. Of course, it will still like some some sort of hardware requirements as the CPU, graphics, memory and even networking will have to be at certain levels to support the streaming or just the requirements for the native games.
The software is also going to work as a streaming platform for music, TV and movies. Apparently they have been working with the likes of Netflix and other video streaming services. Of course, this really doesn't set it apart from other PCs, gaming consoles, streaming devices or even just consumer electronics these days.
Steam Machine
Rumors have been floating around for some time that Valve would release their own PC gaming platform that would be called the Steam Box. Turns out that they won't be producing their own hardware other than some beta prototypes which users of the Steam service can of one of three hundred machines to be released sometime this year. The compatible systems will also be called Steam Machine and not Steam Box. No details have been released about the hardware but the company has said that there will be a variety of different systems made.
Speculation has been that the machines would be very compact and affordable. Essentially a type of mini-PC such as the Gigabyte Brix pictured above. Why? Well, they are very compact, low noise and yet can conceivably offer sufficient performance for the goals of the Steam Machine project. The key here is that the devices must be affordable. After all, if they are going to be competing with dedicated gaming consoles, it needs to be priced competitively. After all, a $800 Steam Machine is not going to be widely accepted when you can either or just go with one of the dedicated gaming consoles.
The goal is that retail available Steam Machines would be available for a variety of venders sometime in early 2014 which missing the launch of both the Microsoft XBOX One and Sony Playstation 4 this holiday season.
Conclusions
So will Valve's planned OS and hardware plans really bring about a new PC gaming console system? That certainly seems to be the goal with this initiative but there are some big problems in this plan that we can't really tell until Valve releases more data. Specifically, we need to see what the requirements are for the SteamOS as well as what the pricing for the retail Steam Machines will be. After all, if it ends up costing more than a dedicated console to just get a system capable of streaming from a separate PC it is not going to go over well. This would also be bad if the streaming capabilities don't function extremely well. Finally, if the hardware prices are too high, then it may end up being more economical for consumers to just purchase yet another PC that they could hook up to their TV and use as a traditional PC and gaming platform than just a SteamOS platform.