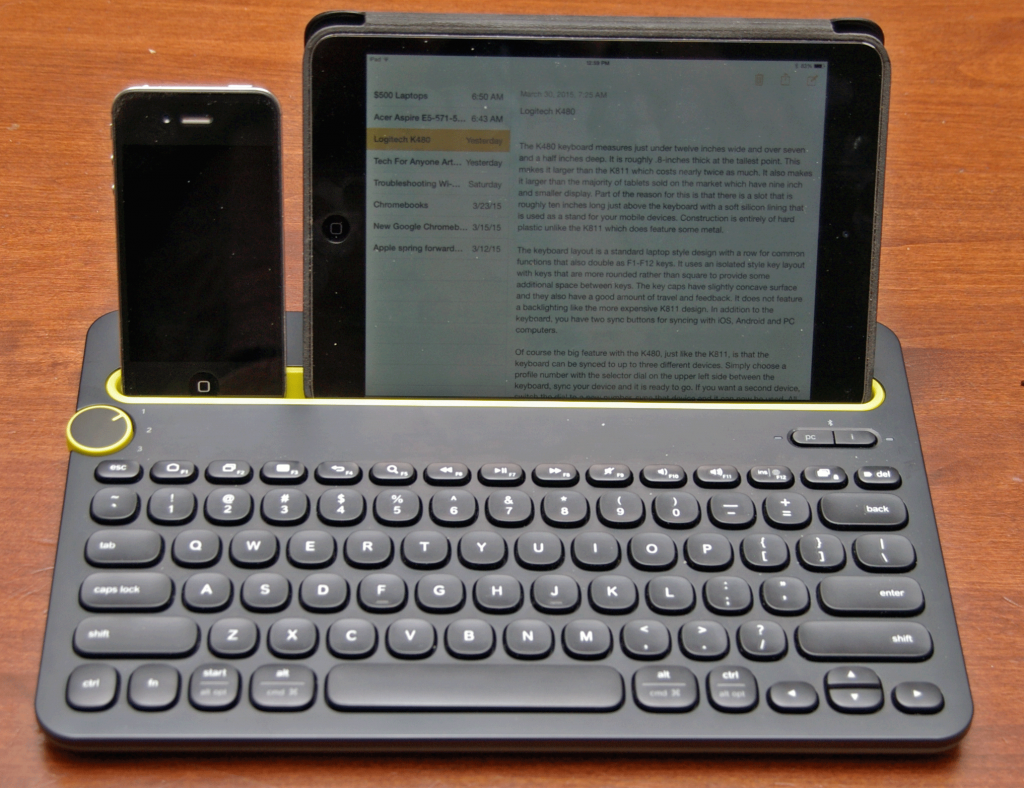 Have to write a lot of text on a mobile phone or tablet? Maybe you use both of them and also have a PC that you use in a media center that needs a wireless keyboard? If so, Logitech offers a couple of keyboards that can be used between multiple devices. Sure, you can use a single device Bluetooth keyboard between multiple devices but you have to unpair and pair them whenever you want to switch. Logitech's keyboards store three profiles that can be switched between with the press of a button or turn of a dial. The new Logitech Bluetooth Multi-Device Keyboard K480 is almost half the cost of the previous Bluetooth Easy-Switch Keyboard K811. So, is this new lower cost keyboard a solid compromise in terms of usability and features over the more expensive model or would it be better to stick with a single device keyboard option?
The K480 keyboard measures just under twelve inches wide and over seven and a half inches deep. It is roughly .8-inches thick at the tallest point. This makes it a roughly a third larger larger than the K811 that costs nearly twice as much. It is also larger than the majority of tablets sold on the market featuring nine inch and smaller displays. Part of the reason for this is that there is a slot that is roughly ten inches long just above the keyboard with a soft silicon lining that is used as a stand for your mobile devices. Construction is entirely of hard plastic unlike the K811 which does feature some metal.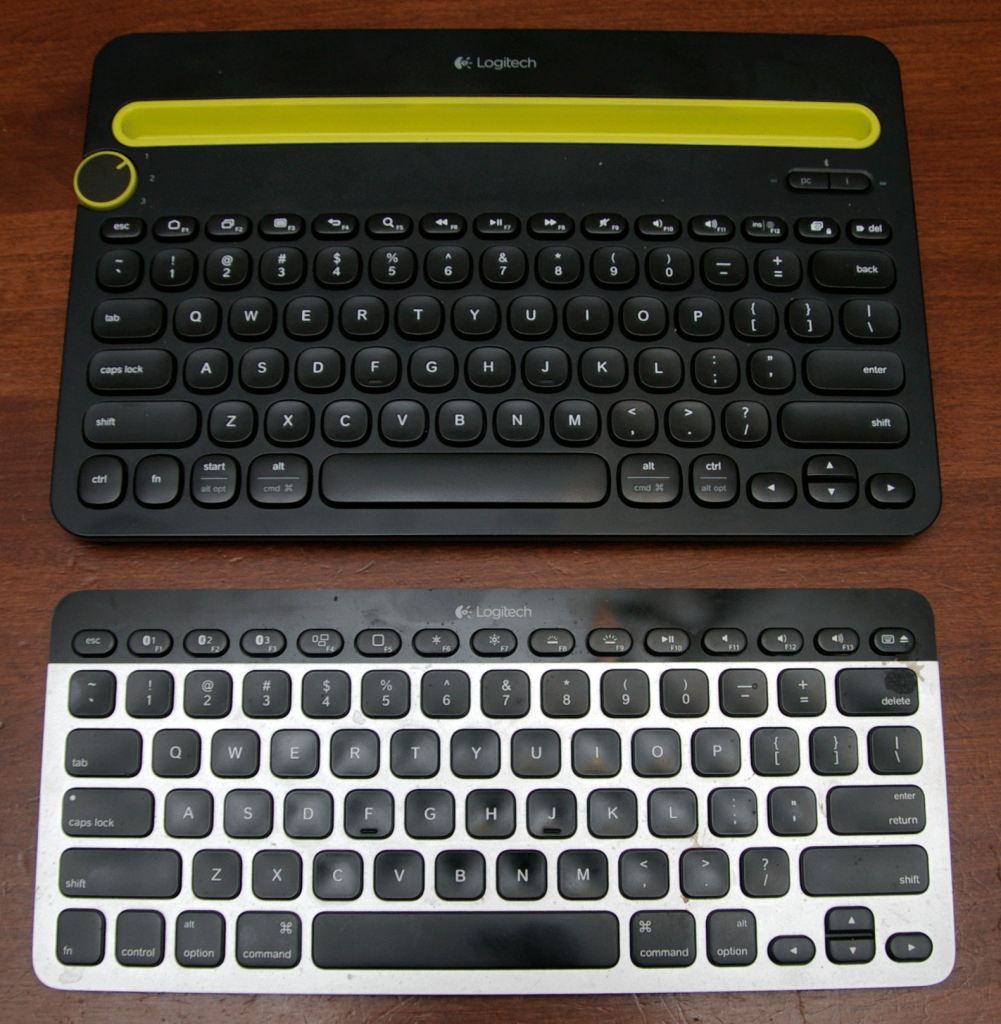 The keyboard layout is a standard isolated style design used in many laptops with a row for common functions that also double as F1-F12 keys. The keys on the K480 are more rounded than the K811 to provide some additional space between them. The key caps have slightly concave surface and they also have a good amount of travel and feedback. It does not feature a back lighting like the more expensive K811 design. In addition to the keyboard, you have two sync buttons for syncing with iOS, Android and PC computers.
Of course the big feature with the K480, just like the K811, is that the keyboard can be paired up to three different devices. Simply choose a profile number with the selector dial on the upper left side between the keyboard, pair your device and it is ready to go. If you want a second device, switch the dial to a new number, pair that device and it can now be used. All it takes to change between devices is to pick the number profile for that device on the dial and it will automatically pair up and be ready to use. Be sure to check the dial when you pull it out of a bag as it can switch easily.
Power is supplied by two AAA batteries included with the keyboard. Battery life is expected to be roughly two years so you won't likely have to change them frequently. I have been using the keyboard regularly for over three months and have not have to replace the batteries yet. Now, the K811 does feature an internal rechargeable battery which is one of the reasons for its higher price tag. I also have a K811 and it has only required recharging once since it was purchased over a year ago.
Overall, my experience with the K480 keyboard has been extremely good. It definitely provides a much faster interface when writing articles on my iPad Mini than trying to use the virtual keyboard. There is no comparison when I use it to input data onto my iPhone. There are a number of quirks that I have had to deal with that I would like to bring up.
First, the slot for holding a device is only about four tenths of an inch thick. This does generally hold tablets and phones alright for the most part. If your device is rather thick and you use a case, it might not fit. This is true if I want to use the keyboard with my iPhone 4S which will not fit with its case on. It also would have been nice if they reduced the amount of space between the keyboard, slot and the top edge as it could have been made smaller. Then there are times when the device would like to enter a key press twice rather than once. I was not able to determine the exact cause for this as it only happened occasionally and seemed to only happen in areas where there was a lot of 2.4Ghz signals from wireless which could be impacting the Bluetooth signal. Powering off the keyboard and turning it back on seemed to clear it up.
So should you get the Logitech K480? If you have multiple devices that you want to use a single wireless keyboard with, it is invaluable. I can use the keyboard with a Mac Mini hooked up to my entertainment center, my iPad Mini and my iPhone. Having the slot is especially useful when trying to use it with the mobile devices but if you have thick devices, that may not work. The price makes it not much more expensive than many low cost single device Bluetooth keyboards on the market. There are only three reasons I think you might want the K811 over the K480. These are if you don't need the stand slot, want a smaller device and need a back light for the keyboard.