Thinner and lighter is the general trend for any new technology these days. Yesterday, Lenovo announced their third generation of Yoga laptop with some fairly significant changes. It is of course thinner and lighter than the first one but to achieve it, they did some pretty amazing engineering. After all, the Yoga 2 Pro already offered a QHD+ (3200×1800) display and a very light weight of just over three pounds. So what does this Yoga 3 Pro have to offer?
Watchband Hinge

The big new feature of the Yoga 3 Pro is the new watchband hinge as Lenovo likes to call it. Rather than a hinge that had two posts that the screen would pivot on, the hinge is constructed very much like a metal watchband. It is comprised of over 800 pieces that form an articulated hinge. Unlike a watchband though that is pliant and then forms to the wrist, this hinge will keep its position and hold the screen at any angle that you might fold the screen at whether it is closed, like a laptop or folded all the way back into a tablet.
The new hinge will take some time to get used to by many people as the silver metal hinge certainly stands out in the orange clementine color of the laptops they liked to show off. It probably will not stand out as much on some of the other models but it still stands out when one looks at it. There is also a question of how easy it will be to hold in the tablet mode. Will the new hinge potentially pinch the skin of the hand holding it if the screen moves out of position? We also are not sure how well it will stand up to the test of time and use in terms of holding its position. It is critical that it hold its position for use in laptop, stand or tent modes so that it doesn't slide out of position.
New Core M Processor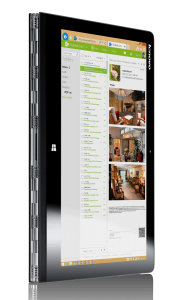 The Yoga 3 Pro is going to be the first of Lenovo's laptops to feature the Intel Core M processor. This Broadwell design has been hotly anticipated because of its supposed efficiency that will allow devices to get thinner and lighter and even allowing some to not need any active cooling. It has been delayed several times over likely due to production problems which hopefully have been solved by Intel.
The reported efficiency is probably the primary reason that Lenovo is able to get the width down to just .5-inches and drop a half pound on the weight compared to the Yoga 2 Pro. In fact, when laid flat, the system is barely larger than the width of a USB 2.0 port. One thing that has not been reported though is how much performance may have improved over the past Haswell based Core i processors. It may be that performance just remains similar but it uses less power and produces less heat.
Harmony Interface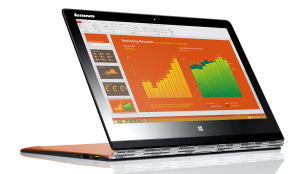 Another new feature is the new Yoga Harmony interface. This is an overlay to the Windows operating system that will detect which mode you have the Yoga 3 Pro positioned in: laptop, stand, tend or tablet. It then will categorize which applications you tend to use in each of these different modes and then show them as your favorites for easy access. This can greatly speed up the use of the system in terms of finding your applications rather than having to search through the Live Tiles of the start screen or searching for them.
While interesting, it will take some time to get a feel for how useful the new Harmony interface is. Of course users will always have the ability to use the standard Windows interface rather than using the overlay.
Pricing and Availability
Lenovo is projecting that the Yoga 2 Pro will be available at the end of October but this date is probably highly dependent upon availability of the new Core M processors from Intel. Pricing will start at $1349 making this a premium class laptop.
[]