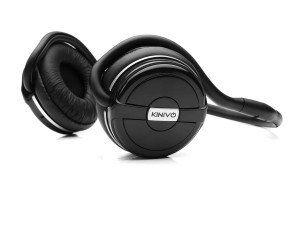 If you have been reading the Tech For Anyone site over the past couple of years, you probably have noticed me mention some inexpensive Bluetooth headphones. The days of being attached to your device in order to listen to your music or videos are pretty much over. The ease and simplicity that Bluetooth headphones provide is just too much to pass up. Sure, they may lack a bit of fidelity of wired headphones but the quality has greatly improved. Many people are probably worried about the cost of wireless Bluetooth headphones but let me tell you that you don't have to spend $100 or more for a decent pair of wireless headphones. Just take a look at the Kinivo BT240 that you can find for under $30. So just how good (or bad) or they?
The Design
If you are at all familiar with wireless headphones, then the Kinivo BT240 probably look fairly familiar to your. They use a wrap around style design that rests behind the head with the headphones looping over the ears. In fact, you might see them as nearly identical to some old Motorola MotoRokr S305 headphones from several years ago. You can see the two in the picture here. There are some noticeable differences between the two. The ear pieces on the Kinivo BT240 are larger and the plastic loop band is thicker than the Motorola. The Kinivo are also a bit heavier but many people probably would not notice.
One big difference here is the Kinivo BT240 offers additional media controls that the Motorola and even the previous BT220 from Kinivo lack. So, in addition to the volume control, there are media back and forward buttons. The middle multifunction button acts as a power/sync/play/pause button. This is useful for those that happen to be listening to music from a phone or tablet.
To help make the Kinivo BT240 more portable when they are not in use, the headphones can rotate and fold into a more compact design that can be carried around in a supplied pouch. It should be noted that they don't fold up as nicely as they could with one of the earpiece bands pressing into the foam of the earpiece which can get deformed from prolonged storage.
Finally, there is the micro USB port on the back side of the right earpiece for charging via an included USB cord.They must be plugged into a computer USB port or a USB AC adapter that is not included. Charging takes around two to three hours and lasts up to ten hours.
Using the Kinivo BT240
Syncing and using the Kinivo BT240 is extremely easy. They will sync up to just about any computer or mobile device that supports the Bluetooth A2DP profiles for audio playback and headset functions. Just hold down the main button for around ten seconds to put it in discovery mode and then follow the sync directions for your device or computer. At that point they will sync and be ready for use. You can then power up and down the headphones by holding the same button for around four to five seconds.
These are not high end audio headphones by any means but the audio quality is sufficient for most people. They do not have a large amount of bass but that is an issue for most open ear headphones of this size. They are certainly comparable to similarly priced wired headphones from name brands. The microphone does work well for those times that you want to chat with someone on the phone. The noise cancellation does a decent job but at times the audio was a bit hollow probably based upon the location of the microphone being on the earpiece. Just be warned that these are stereo headphones and are not suitable for use while driving a vehicle.
The biggest complaint with regards to the BT240 headphones is comfort. The large plastic wrap around band is fairly stiff which has several problems. First, it is fairly tight upon my head which caused pressure on the base of the head right behind the ears. This also lead to several problems with the headphones sliding off my ears if I was moving about while wearing them. This should be something to consider for those particularly with a larger head or neck. I was able to get used it after some time but this could be a problem for those that are sensitive to pressure.
Final Thoughts
Overall, the Kinivo BT240 wireless headphones are a very solid value. Pricing for them is roughly $25 to $30 online. This makes them only slightly more expensive than a pair of wired headphones and far cheaper than most Bluetooth headphones. The audio quality may not be the best out there but they are certainly better than the tinny speakers you find on many smartphones and tablets and the convenience of not having to worry about getting wires catching and potentially breaking your device or headphones is always welcome. The ability to fold makes them also extremely useful for those that want to store them while traveling.