Measuring Activity
The purpose of a fitness tracker is to measure a person's activity. This can be as simple as the number of steps that you take in a day up to complicated aspects that include mapping out the route that you did through your exercise and your heart rate. The concept is that by tracking your activity, you can get a better judge at your activity levels and how you can adjust them to try to improve your fitness levels. The level of information that it tracks will be directly related to the cost of the device.
Find Out What You Want Out of It
Before you invest in a fitness tracker device, you want to determine what your goals are for the device. If you just want to see how much movement you get throughout the day, a simple pedometer that cost under $20 might work just fine. A smart fitness tracker can help you better manage the information by syncing it with a web site or application. If this software has social aspects to it, it may also be helpful for getting the motivation to keep your activity levels up.
If you are into a specific sport or activity for your exercise, specific fitness devices might work better for you. For instance, swimming requires a much different set of motion tracking than walking or running does. In addition, a device for swimming must also be waterproof. Cycling also has a different set of requirements. Then there are exercises such as weight training and aerobic activities that may less be about steps or strokes but about keeping the heart rate up. This is where a heart rate monitor function may be important.
A Smart Pedometer – A Good Starting Place
The most basic of the fitness tracker devices is a pedometer. These have been around for a long time and are basically designed to count the number of steps that a person takes in a given day. Some more advanced models used a person's height or length of stride to estimate the total amount of distance traveled during the day. The typical pedometer was about the size of a small watch and had a clip to be worn on a belt or pants.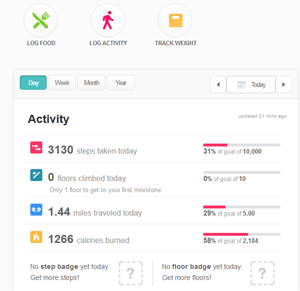 These days, fitness trackers are a bit more than just pedometers. They are designed to be smart in the sense that they can collect the information and then be synced up with software on a computer or more frequently a web site that then can correlate the data. They do far more than just track the number of steps. The data is all stored with time data to do things like estimate the amount of activity that a person has done during the day. This can be useful as it shows the amount of aerobic activity in addition to sedentary activity. That information can be collated and then used to provide more feedback to the users.
Some Basic Fitness Trackers To Consider
The most basic of the smart fitness trackers can be found in the FitBit Zip. This is a very small device that comes with a clip that can be worn on a belt, pants, placed in a pocket or even worn on a shirt or bra. The device syncs its data to the Fitbit site either through Bluetooth on a smartphone with the Fitbit application or via a computer using a USB Bluetooth dongle. It can store roughly twenty days worth of data if you are not near a device for syncing to their web site. Creating an account with Fitbit is completely free. In addition to tracking your steps, the site can also be used to track other data such as food, weight, heart rates, blood pressure and glucose levels. Device feedback is provided by a simple LCD screen that can show time, steps, estimated calories burned and a current fitness level icon. It runs off CR2025 coin cell that lasts about three months. This is the current fitness tracker that I use as it is simple, small and affordable.

For those wanting a bit more information and a rechargeable battery rather than relying on small coin cell batteries, the Fitbit One is over twice the size of the Fitbit Zip but can track more information. In addition to the steps taken, calories burned and distance travels, the Fitbit One can track the number of stair steps taken (thanks to an altimeter), hours of sleep and the quality of sleep. This can be a useful feature for those that might want to add to their activity levels by climbing stairs for extra effort as well as trying to get an idea of how well you sleep. The larger size does make it a bit more conspicuous but it can still be worn on the belt, in a pocket or on a shirt/bra. Also included is a wristband for use when sleeping. The wristband is not suited for exercise. It does feature an internal rechargeable battery which is one of the primary reasons for its size and cost over the Zip. The battery lasts a bit more than a week and is charged via a USB cable. This can be annoying as it means frequently removing it from its belt clip unit unlike the zip. All data is synced just the same as with the Zip through a Bluetooth equipped smartphone or the USB Bluetooth dongle included.

One of the drawbacks to most of these fitness trackers is that they often lack much style in the design. They are generally constructed of plastic with rubberized surfaces or holders that they use. This is fine when working out but can be a bit out of place when worn with dressier clothes. After all, these are designed to be worn all day long but you aren't going to be working out. My wife uses the Misfit Shine which offers a much more stylish metal body design. One of the advantages it has in addition to standard steps, the device when used with the sport band can also be used to track swimming. Rather than using an LED display that shows steps and all, it features twelve white LEDs around the face similar to a watch face that will show your percentage progress towards the daily goal and the current time. All of the data is tracked via the Misfit Shine application that is available for iOS or Android smart phones and tablets which it syncs to via Bluetooth. This is a bit of a disadvantage as it does not feature web access via any computer like the Fitbit and does not allow as much user input for other data to track. The device runs off a single CR2032 coin cell battery and lasts for several months before needing replacement. There are some style accessories available for it including a leather band which makes it look like a watch and a necklace that sadly is not as stylish or well made as one would expect.

The beginning of every year brings with it the rush of advertisers and products trying to help people with their resolutions. One of the biggest areas that marketers try to take advantage of the New Year's resolution is fitness. The idea of becoming more fit is very appealing to many people. One of the big tech products to cash in on this yearly trend is that of the fitness tracker. There are plenty of them on the market with many companies not related to fitness announcing new fitness products including LG and Razer. So what exactly is a fitness tracker and how can it help you to get more fit?