Laptop Backpack
Got lots of books to carry around between classes in addition to your computer? The trusty backpack is still the most efficient and ergonomic way to carry a lot of items around. Any generic backpack can work but it is best to get one that has a compartment that is designed to carry and protect your laptop. The Targus CityGear Chicago is an affordable and well made backpack. It features a fair amount of padding on the straps and features a number of pass through openings for things like headphones and even a padded slot of a tablet if you also are carrying around one in addition to your laptop. It will fit up to a 16-inch laptop and there is plenty of room for books as well. It might be a bit big if you don't have to carry a lot though…
Laptop Messenger Bag
If you don't have to carry a huge number of books and don't necessarily like the backpack style, you can always go with a messenger style bag. The Timbuk2 Command is a great bag for this because it is very well made and features a padded compartment for a laptop as well as a tablet. It is extremely durable thanks to the nylon construction and offers a very wide strap for comfort and years of use. And if you don't want to use the shoulder strap, it also has a briefcase handle. The best part is that it is available in a variety of colors and designs and also a number of sizes depending on how big your laptop is.
Laptop Sleeve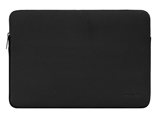 Now if you already happen to have a bag that you will be using to carry things around school but it doesn't have a padded compartment for the laptop, there is another option. Sleeves are designed to surround the laptop with a padded material to help protect it from being damaged while it is carried in a general bag. They can be constructed of a variety of materials but I find neoprene to be the best because it offers a good level of padding. In addition to a variety of styles, they also come in different sizes to best fit specific laptop. Prices can range from as little as $10 upwards of $50.
Wireless Mouse/Trackball
One thing that I particularly hate on just about every laptop is the trackpad. While they are functional for use from time to time, extended use of them can really be painful for your wrists and can slow things down. An external wireless mouse can plug a small dongle into a USB port and then allow you to use it instead of the trackpad. The Logitech Wireless Anywhere Mouse MX is a nice compact design that offers good accuracy regardless of the mouse surface. Of course, I still am partial to using a trackball instead of a mouse or trackpad but it is larger and more difficult to carry. If you only plan to keep it in your dorm or home though, then I would definitely go with the trackball.
External Hard Drive
Laptops can have a very limited amount of storage space on them which means you may need some extra storage. An external hard drive can help you storage additional data outside of the laptop which is great if you happen to have a large digital video or music library. Of course the primary reason to have an external hard drive is so that you can back up your work. It is a huge pain to have something crash on you and have to redo days or weeks or work. Pretty much any USB 3.0 based slim external drive should work just fine but you want to make sure that it will run off the USB port and not require additional port. A good option for this is the Seagate Backup Slim drive. It is Mac and PC compatible. It is available in capacities of 500GB up to 2TB but I think getting less than the 2TB model is a bit short sighted as backups can take up a fair amount of space.
Portable Speakers
Most laptops have extremely small speakers that don't put out much sound let alone something with a good amount of bass. A set of external powered speakers can be extremely useful if you want to listen to some music or watch some video on your laptop. You don't need large speakers to get some good sound either. The iHOME iHM79 speakers are a very affordable option with some great features. For instance, they are can be hooked together and compressed for easy transport. They also don't require a power cord because they have built-in rechargeable batteries that are charged up through a standard USB port. One downside is that the 3.5mm speaker cord from the PC to the speakers is relatively short.
Headphones/Headset
Need to work in a library or common place that doesn't allow you to play music or audio while you work? A good set of headphones with closed ears can allow you to listen to your music (at reasonable volume) without disturbing those around you. A headset is essentially similar to headphones but add in a microphone boom that can allow you to use it for communicating with others via online chat or VoIP applications. I really like the Sennheiser PC310 headset for its great audio and ability to work with just about anything thanks to the 3.5mm audio plugs. It even features an inline volume control with a microphone mute switch for when you might want to mute yourself during a chat session.
External Monitor
So why would you need an external monitor when a laptop has a screen built-in? The problem is the size of that screen and often the resolution. Most laptops screens are 15-inches or smaller which is fine for doing some work but if you want to also use it for entertainment, the screen may be bit small for watching a video with friends. A 27-inch display can greatly expand your workspace and also double as an entertainment center. The ASUS VX279Q is a great option as it isn't too expensive but comes with some nice features. This includes an IPS screen for bright color and wide viewing angles and DisplayPort for use with Apple computers. The HDMI port can also allow the monitor to be used with other devices like a video game console or streaming device. It even features built-in speakers although they are not terribly loud.
Security Cable
If you happen to be in a dorm room or even a library, your laptop is unfortunately at risk for theft. Just a couple of seconds away from a laptop could give someone the opening to snatch it off a table and be gone. Thankfully, almost every laptop comes with a small slot on it called the Kensington security slot. This little port is used with a security cable that allows to your tie the laptop to a heavy object like a desk so that it can't be taken. The Kensington Combination Ultra Laptop Lock is a great and affordable means of securing a laptop. The four digit combination lock is also useful as you don't have to worry about misplacing a key and being unable to take your laptop with you.

While having just a laptop for school is great, the experience can be greatly enhanced with a few accessories. They can help you carry your laptop around, protect it, expand its storage, enhance its use for entertainment hub or just make it easier to use. Today I'm going to show off some of the accessories that I think are best to compliment your laptop but just remember these are all optional but some are more useful than others.