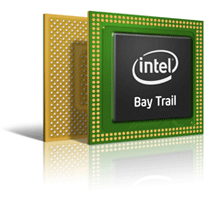 Windows 8 has not been a big seller with consumers. The new operating system made some massive changes in order to function on both a traditional computer and in a tablet. Sales of Windows 8 tablets have been plagued by problems such that Microsoft had to take a major hit on its financials from its Surface products and a large number of computer manufacturers backed out of producing the more affordable Windows 8 RT tablets that used the ARM based processors. At IDF this week, Intel announced its latest Atom processors (codenamed Bay Trail) and products based on it should be shipping by the end of the year. So how is this potentially going to salvage the Windows 8 tablet market
First Generation Windows Tablet Problems
There were a number of problems that plagued the first round of Windows 8 based tablets. The first is the fact that the Windows 8 RT based tablets used ARM processors instead of x86. This allowed them to be affordable and run for very long times but the software that would run on them was not the same software that you would use in Windows PCs. In fact, the Windows 8 RT operating system did not even have an official desktop mode other than for running its Office software that came preinstalled. Most buyers of the platform wanted to run the same software that they had with their past computers but now they were limited only to those specifically written for the platform.
Those that did go for the tablets that used x86 processors so they could run the full Windows 8 operating system encountered a different set of problems. The tablets seemed to fall into two different categories. The more expensive models use the same ultra low voltage processors that would be found in laptops and ultrabooks. While these provided some great performance and compatibility, they had issues with running times. Take for instances Microsoft's own . It had around four hours of running time playing back digital video files. Android and iOS based tablets could run far longer than that.
Many of the more affordable tablets used Intel's Atom processor for full Windows 8 compatibility such as the . This did offer some outstanding running times that were on par or beat many Android and iOS tablets but it had two downsides. First, the processor is only 32-bit meaning that it was limited to 32-bit versions of Windows 8 and software. Second, there was noticeable lag and performance issues when dealing with many programs beyond your basic email or web browsing and multitasking was also a bit sluggish.
How Intel's New Atom Processor Will Help
The new Intel Bay Trail based Atom processors are the first major redesign of its ultra efficient processor that makes a huge number of changes that should boost the performance. It marks the first time that four cores will be available from Intel in the Z3770 while the more affordable Z3470 will stick with dual core. The architecture has also moved from 32-bit to 64-bit although it will likely take some time for the Android and Windows tablet variety of software to be fully 64-bit compliant. It also features the Turbo Boost function that will increase the clock speeds of the processor cores when it is needed.
The graphics have also been majorly improved. The previous Atom processors have been based on the old GMA graphics that had major performance limitations. The new Bay Trail processors use the same Intel HD Graphics engine found on the Ivy Bridge processors. This means that they have improved 3D support (still not for gaming though really), resolution support up to 2560×1600, H.264 video encoding capabilities and dynamic power and performance scaling. This should produce less lag in the graphics system when dealing with multimedia and has improve capabilities at offloading tasks from the CPU to the graphics when it it would benefit the power usage.
The most impressive feature though is its dynamic power management. Power scaling is nothing new to mobile processors but this is very different. Essentially, the processor can allocate power and voltage regulation to each of the different sections of the processor rather than the entire processor. This means that if the processor is fairly idle but the graphics are in high demand, it will scale back the CPU and ramp up the GPU. Conversely, it can throttle back the GPU and CPU when idle but still keep higher power to the peripheral management if for instance a lot of data is being transferred between devices. This should really help with the overall feel of the Windows 8 tablet experience compared to past Atom based tablets all while allowing for improved running times.
An Example of an Upcoming Windows 8.1 Tablet
At IDF, ASUS showed off their new Transformer Book T100 tablet. This will be their first tablet to use the new Intel Atom Z3470 processor and have a very affordable price tag of just $349 with 32GB of storage and 2GB of RAM. This puts is right in the price range of your 10-inch Android tablet and less than Apple's current iPad with Retina Display. It is a bit larger at 10.3 x 6.7 x .41 inches but it is a tad lighter at just 1.2 pounds. The battery life claims here are in line with many other non-Windows tablets. For more details, you can check out of the tablet.
If that isn't enough, this is an ASUS Transformer product which means that an accessory keyboard dock will be available. This does double the overall size of the tablet but provides a full keyboard about the size of an average 11-inch laptop plus double the battery life and a full sized USB 3.0 port. With this dock, likely to be priced similar to past docks at $150, you essentially end up with a budget touchscreen laptop that also has the ability to be used as a full tablet. This is an excellent option for business travelers and students who need to do a bit more work on their tablet but still want something compact and fully compatible with their software programs.