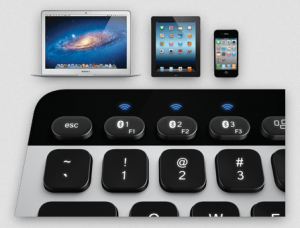 For anyone familiar with connecting a Bluetooth peripheral to a computer, tablet or smartphone, you must pair the two devices with one another. This is typically a process that involves putting both into a discovery mode and then selecting the peripheral off the main device Bluetooth setup menu. This process works great when you have a single computer, tablet or smartphone that you want to pair peripherals with. Many people now have multiple Bluetooth capable devices. Trying to use a single peripheral with each of these devices can be a pain because it requires unpairing the device from one before it can be used with another. Thankfully, Logitech has come out with their Bluetooth Easy-Switch Keyboard K811 that allows you to use a single keyboard with multiple devices. But just how well does this work?
The Keyboard
The Logitech Bluetooth Easy-Switch Keyboard K811 offers a very familiar size and shape to anyone that might be familiar with Apple's Wireless Keyboard, often considered one of the best on the market. It is just slightly wider at just under 11.5-inches and is slightly shallower at 5-inches. It is also a bit thinner at the back at just half an inch but this also means that it has a lower angle of incline than the Apple keyboard.
In terms of construction, the keyboard is primarily built of black plastic with a metal cover over the top primary keyboard keys. The keys are also made of a black plastic with a slight indented curve that Logitech likes to call Incurve. The keys are slightly taller than those found on the Apple keyboard and also have a longer travel distance.
Overall, it has a very comfortable feel when touch typing and offers a nice level of feedback for touch typists.
One of the more unique aspects of the keyboard is that it is fully backlit which is very uncommon for a wireless keyboard. When the device is turned on, the backlight will automatically turn on and adjust to the ambient light conditions. It will also go into a sleep mode and turn off the backlight when the keyboard sits idle for a while to help conserve the battery. A proximity sensor will then wake the keyboard and lighting back on when when a user puts their hand near the keyboard. It is possible to adjust the backlight levels or turn them off entirely as well.
The keyboard is powered by an internal lithium ion rechargeable battery built into the keyboard. This means that you don't have to swap out batteries which seems to be a fairly common occurrence with frequent use of the Apple Wireless Keyboard that uses two AA batteries. Charging of the battery is done through a supplied USB cable but no power adapter is included. This means you will have to plug the keyboard into a computer USB port or use any power adapters for your mobile devices that happen to have a standard USB power out port. Charging takes about three hours to a full charge and Logitech claims up to a full years of use. My wife and I have used the keyboard for more than two weeks and it shows no signs or needing to be recharged so its hard to say how long the keyboard charge will actually last.
Syncing to Devices
The process of initial setup with the devices is not that much different from a normal pairing between peripheral and device. Simply turn on the keyboard and then press the Connect button on the bottom of the keyboard. The three blue LED lights over the three device buttons in the upper left will blink. Press the key you want to attach that device to to select the device number for he keyboard and wait for that light indicator to blink. Then simply go to the Bluetooth menu on your computer or mobile device and select the Logitech K811 device. The light will go solid and they should be paired.
Repeat these steps with any two other devices that you may want to use the keyboard with by simply selecting one of the other Bluetooth device key numbers on the keyboard during the pairing process. Once you have your multiple devices sync, you can quickly switch which device the K811 will send input to by pressing the Bluetooth device key for that desired device. The process of switching between the devices is quick and seamless. No pairing or unpairing is required unless you happen to have more than three devices and need to switch out two of them.
Pricing
If there is any downside to the Logitech K811 keyboard it is the pricing. The list price of the keyboard is $99.99 and it is typically around $85 to $90 at many online retailers such as Amazon.com. This puts it at a higher price than even the Apple Wireless Keyboard that costs $69 or the many third party Bluetooth keyboards that can be found for just $20 to $30 such as the Anker Ultra Slim. Thus for the price of the K811, you can actually purchase three basic Bluetooth keyboards, one for each of the devices, and still potentially pay less. Of course it is not convenient to have to carry around all of these peripherals if you also happen to be carrying multiple devices that you might want to use a Bluetooth keyboard with.
Conclusions
If you do happen to have multiple devices in a home that you like to attach a wireless keyboard to, then the Logitech Bluetooth Easy-Switch Keyboard K811 is certainly extremely convenient and easy to use. It helps that it is a joy to type on and works flawlessly when switching between your devices. It would have been nice if it used a bit more metal and a little less plastic but the keyboard is very lightweight and seems durable enough if you have to travel with it. The price may deter many people from considering it over other Bluetooth devices but having just a single keyboard that you don't have to pair and unpair is worth the cost of the convenience of this single keyboard.
[]