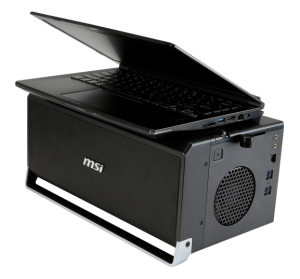 If there is one area that mobile computers tend to lag significantly compared to desktops it is the graphics system. Sure, the performance of mobile graphics has improved such that they can play many games at 1920×1080 just fine but they still don't have the detail and higher resolution support of their desktop counterparts. Over the years, there have been multiple solutions to try and improve the performance by adding on a desktop solution to a mobile computer. MSI has once again proposed a solution to buyers that want mobility and desktop graphics performance with its announced GS30 Ghost 13-inch laptop and docking solution but will buyer's take to this solution?
The MSI GS30 Ghost Laptop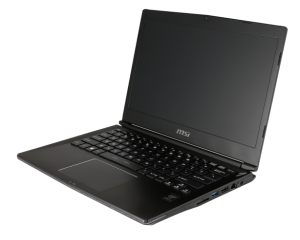 Mobility is a major goal in the design of the laptop. This is why they elected to expand their GS series gaming laptops with the GS30. The GS series is about performance and a thin profile with laptops like the . The GS30 takes things even smaller by introducing a 13-inch laptop design. Even with its small size, it packs in some big features like Core i7 mobile processors, dual M.2 SSD drives and a display with 2560×1440 resolution.
The only problem is that this is a gaming series laptop but it relies on Intel Iris Pro integrated graphics rather than a dedicated processor. While it is possible to do some gaming with this graphics solution, it certainly is not ideal and comes no where near the performance of a GeForce GTX 860M found in the GS60 Ghost. So in essence, the laptop is not really for gaming on the go but only when you use the dock solution.
The GamingDock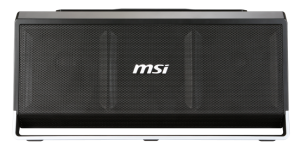 The solution that MSI has come up with is to have an external GamingDock that attaches the GS30 laptop to a desktop graphics solution. The GamingDock offers a full size desktop PCI-Express x16 graphics card slot for buyers to install their own graphics card that the GS30 can then use. It also avoids one of the biggest problems with mobile gaming systems in that the graphics card in the GamingDock can be upgraded at any time by the user.
While the solution is interesting, there are a number of problems with it. First, you have a box that is as large as some . Why would you want to get a mobile platform that essentially requires a large desktop platform to play games? Second, there is no mention of the cost to the GamingDock. Obviously consumer will have to supply their own graphics card with it plus the cost of the box. If this ends up costing enough, it might be worth it for buyers to instead buy a low cost laptop and a decently priced gaming desktop systems to end up with essentially the same results as this.
[]