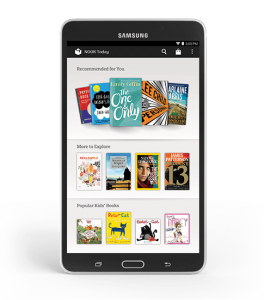 Barnes and Noble has had a very troubled time trying to produce its own e-reader the Nook. After several revisions, the company decided that it was best if it focused on the software side of things and instead had another company produce the hardware. Nearly two years after it launched its last tablet, the Nook HD, Barnes and Noble has released its first partnered Nook branded tablet with Samsung in the Galaxy Tab 4 Nook for $179. Is this new partnership going to help save Barnes and Noble's Nook services?
The Galaxy Tab 4 Nook Hardware
Does the new Nook look surprisingly familiar? It should because essentially this new tablet is identical to the regular Samsung Galaxy Tab 4 7-inch tablet just with some software changes. This was obviously done to speed up deployment of the tablet but it means that hardware wise it really is not that different from something you can already buy. But how does it compare against their previous Nook HD and say the Kindle Fire HDX?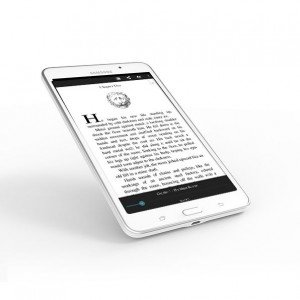 Probably the biggest disappointment is in the display. The 7-inch screen has a lower resolution of just 1280×800 compared to the Nook HD's 1440×900 and the Fire HDX's 1920×1080. This has several implications. First, text on ebooks will not be as crisp as the competition. It also means that video is restricted to 720p rather than 1080p for less detail. At least the brightness levels are better than the previous Nook HD to make up for it somewhat especially if you intend to use it in bright sunlight outdoors.
One feature absent on the Nook hardware from Barnes and Noble was cameras. Even Amazon offered the front facing camera on its 7-inch Fire HDX for web chats. The new Galaxy Tab Nook brings both a front facing and rear facing camera. This is a nice addition but these cameras are only really useful for the occasional snap or video as the resolution and quality of the cameras are fairly limited but it is still a step up.
Another item that is available in the Galaxy Tab Nook that was not present in past Nook hardware is a GPS unit. This can enable location based services and mapping that can be extremely useful. Of course, most of the features require a constant connection and with just Wi-Fi networking, it won't be that functional if you happen to be trying to use it in a car for directions unless you download driving directions in advance.
Having the ability to expand the memory within the tablet has always been an advantage that the Nook have over the Kindle tablets. Thankfully this continues to be the case as there is a microSD card slot for adding additional memory (up to 32GB) if you need to store more books or video files on the tablet. This is actually a very important feature as the tablet only features 8GB of internal memory much of which is taken up by the operating systems and software. The Kindle Fire HDX in comparison comes with 16GB of memory but no microSD card slot.
The Software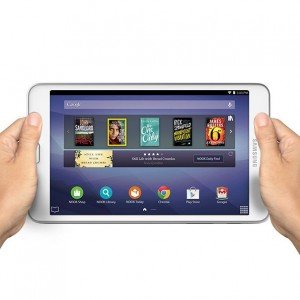 Now the Galaxy Tab Nook 4 is at the heart an Android based tablet. In fact, the base operating system is Android 4.4. The difference is that the Barnes and Noble Nook Experience skin has been placed on top of it to emphasize the books and video that you can purchase through the Barnes and Noble services. This is both good and bad depending on how you look at things.
If you want a wider range of applications to use, then the fact that it is running on Android is going to be a benefit. This is because you have access to the standard Google Play store for the whole breadth of applications that were not available before. It also means that you have a more standard experience if you are using the Android interface in terms of navigation between applications and all.
Now for the not so great part. With the Android software and applications available, why do you need to get the Nook branded version rather than a standard Android tablet? Sure, the Nook Experience software has more features than the standard Nook Android apps but it also adds another layer of software between users and their device. Samsung is also notorious for adding lots of software on their Android devices as well which clutter up the UI and device memory.
Conclusions
Overall, the Galaxy Tab 4 Nook is a step up for the most part from Barnes and Nobles past tablet offerings. The problem is that it really isn't that different from other Android devices. In essence, it is a standard Android tablet with a Barnes and Noble skin. Since the price is identical to the standard Galaxy Tab 4 Nook, one can either opt to get the Nook version with its software overlay or just get the non-branded version and use the Nook apps. You could even use competing applications from Amazon with it that you could not before.
Essentially, if you like using Banes and Nobles services, I would highly recommend going into a store and looking at a demo device to see how the overlay works compared to a standard Android tablet. Then make you buying decision on whether you like it or just having a different Android tablet that might have a better screen or other features.