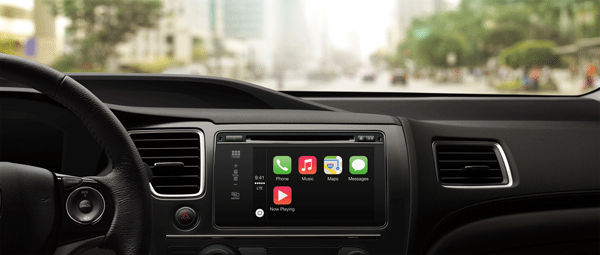 It has been known for some time that Apple was looking to expand its consumer electronics reach by integrating their iOS products into automobiles. It has been popular with manufacturer's for some time to offer cables to hook up iOS devices into the sound system. At the Geneva Auto Show, Apple has finally unveiled integrated into several cars including Ferrari, Mercedes-Benz and Volvo. Additional car companies including BMW, Ford, General Motors, Honda, Hyundai, Jaguar, Land Rover, Kia, Mitsubishi, Nissa, Peugeot, Subarau, Suzuki and Toyota all have plans to eventually include the new system on future vehicles.
The basic interface will allow users to either do voice commands through Siri after pressing a button on the steering wheel for hands free operation or via the center console touchscreen display. Base applications allow for phone calls, maps, messaging, and music. Third party apps can also be made CarPlay enabled such as Spotify and iHeartRadio. All of these applications are accessed through the connected iPhone so when the applications get updated for CarPlay support, they will then be accessible via the in-dash CarPlay interface.
The CarPlay system will require an iPhone 5 or higher with a Lightning connector. There is no word yet if it would be possible to use an Lightning connector equipped iPad with the system with more limited functions such as no calling capabilities but still access to maps and media. There are also reports that a Wi-Fi based connection between the iPhone and the CarPlay system may come in the future. There is also no word from the manufacturers at this point how much cost the CarPlay feature will add to a vehicle's price.